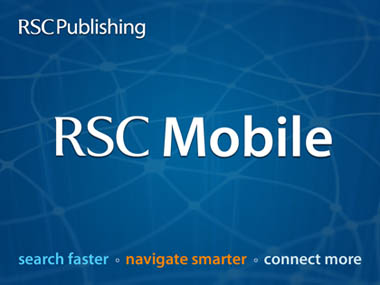 RSC Mobile app on iTunes
This is the RSC Mobile iOS app available on iTunes for the iPad, iPod and iPhone.
RSC Mobile app on Android
This is the RSC Mobile app now available for Android devices
RSC Mobile
RSC Mobile provides readers with access to search RSC journals content from our RSC Publishing Platform. If your institution/organisation pays for RSC journals, then you can access exactly the same content on this app using your institutions/organisations wireless network.
Access the most relevant scientific research via Latest Articles or Search options and save articles for reading offline. RSC Mobile includes:
Up-to-the-minute access to RSC journals
Full text HTML and PDF access via wireless networks for subscribing institutions/organisations
The latest news from our RSC Publishing Platform
Saving articles for offline reading
Share your favourite content via email, Twitter or Facebook
The most frequently asked questions regarding RSC Mobile
RSC Mobile Banners
These banners can be added to VLEs and library websites to promote the RSC Mobile app
Contact and Further Information