Why you should publish in RSC journals
"Journals from the RSC are recognised as the fastest in the field, some papers having been published within a day of receipt, including full peer review and editing. This is made possible by a dedicated, professional staff, and truly innovative electronic workflow systems."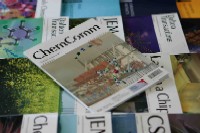 Authors who have published with us continue to be impressed by the speed and efficiency of the service that we offer.
Authors benefit from:
The fastest times to publication - acceptance to publication in as little as a few days
High impact factor and citation levels
Global circulation and recognition - many RSC journals are abstracted in MEDLINE and other major databases
Enhanced HTML journal articles (through Project Prospect) including:

Hyperlinked compound information in text
Gene, Sequence and Cell Ontology terms linked to definitions and related articles
IUPAC Gold Book terms linked

Hot articles are highlighted in Chemistry World and in the wider scientific press
No page charges
Free use of colour to enhance articles
Advance Articles on the web (typically 30-40 days before their publication in print)
Simple and effective E-submissions via our online submission and peer review system
Electronic supplementary information
Free electronic reprints (pdf) of own paper(s)
Free e-mail alerting and RSS news feeds service
Additional publishing options via RSC Open Science
As an added bonus, the RSC also offers two further benefits to authors in RSC journals:
25% discount off the full price of most RSC books
The opportunity to apply for a grant to aid international collaboration
Read what authors in RSC journals think about the publishing process
E-mail messages sent to your mailbox when an electronic issue of a journal is published
Daily updates of the latest news items from across the RSC including Chemistry World and articles from RSC journals
Discounts for RSC Authors, Editors and Referees on all RSC books

Discounts for RSC Authors, Editors and Referees on all RSC books
Available for international collaborative research or RSC scientific meetings
For FAQs, examples, contact information and latest news about RSC Prospect
Related Links
External links will open in a new browser window