Centenary Prize 2010 Winner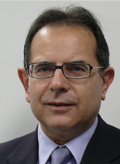 Avelino Corma
University of Valencia
Awarded in recognition of his numerous novel contributions to the design, synthesis and application of catalysts, and the profound impact of these contributions on the industrial practice of catalysis.

About the Winner
Avelino Corma was born in Moncófar, Spain in 1951.
He studied Chemistry at the Universidad de Valencia (1967-1973), and received his Ph.D. at the Universidad Complutense de Madrid in 1976.
He was Postdoctoral in the Department of chemical engineering at the Queen's University (Canada, 1977-79).
He is director of the Instituto de Tecnología Química (UPV-CSIC) at the Universidad Politécnica de Valencia since 1990. His current research field is catalysis, covering aspects of synthesis, characterization and reactivity in acid-base and redox catalysis.
Avelino Corma is co-author of more than 700 articles and 100 patents on these subjects.