Chemistry World Entrepreneur of the Year 2006
The deserved winner of the Chemistry World Entrepreneur of the Year award for 2006 was Ian Shott who built up his business, Excelsyn, by buying struggling companies and injecting them with a new lease of life. From a zero start three years ago he's completed a turnover of £12m at the end of the second financial year as a group and anticipates profitable sales in excess of £16m this financial year.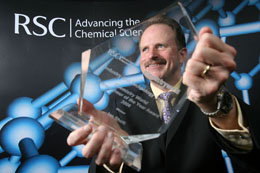 Ian won the award for successfully building a business with a unique strategy
Chris McGuigan from Cardiff University was also awarded Highly Commended in this category for his work in the pre-clinical and clinical development of a new family of anti-viral agents. His work was licensed to the American company Fermavir in February 2005 with the company now listed as a public entity and recently been taken over by US company Inhibitex.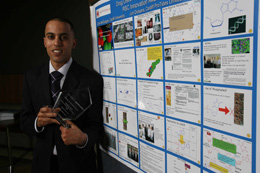 Youcef Mehellou was there to pick up the award on behalf of Chris
Related Links
Fermavir
FermaVir Pharmaceuticals current focus is improved therapeutics for shingles and Cytomegalovirus infections.
External links will open in a new browser window
Contact and Further Information
Awards
Royal Society of Chemistry, Thomas Graham House, Milton Road, Science Park, Cambridge, CB4 0WF
Tel: +44 (0)1223 432384
Fax: +44 (0)1223 423623

---