John Jeyes Award 2010 Winner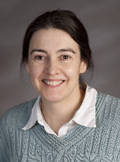 Clare Grey
University of Cambridge
In recognition of her world leadership role in the use of solid-state NMR methods to study structure and function in inorganic materials and specifically for the development and application of novel NMR methods to study structure and dynamics in lithium-ion battery materials.

About the Winner
Clare P. Grey has recently joined the Chemistry Department at Cambridge University as the Geoffrey Moorhouse-Gibson Professor and Head of the Inorganic Chemistry Sector.
She received a BA (1987) and a D. Phil. (1991) in Chemistry from the University of Oxford. She was a Junior Research Fellow at Balliol College (1990), before spending a year at the University of Nijmegen, as a Royal Society postdoctoral fellow (1991), and two years as a visiting scientist at DuPont CR&D in Wilmington, DE (1992-1993). She joined the faculty at Stony Brook University (SBU) as an Assistant Professor in 1994. She was promoted to Associate and then Full Professor in 1997 and 2001, respectively.
She currently maintains a part-time position at SBU, where she is the Director of the Northeastern Chemical Energy Storage Center, a Department of Energy, Energy Frontier Research Center.
She was the recipient of an NSF National Young Investigator Award (1994), a Cottrell Scholarship (1997), a Dupont Young Professor Award (1997), a Camille and Henry Dreyfus Teacher-Scholar Award (1998), an Alfred P. Sloan Foundation Research Fellowship (1998), a NSF POWRE award (2000), a NYSTAR Award (2007), the 2007 Research Award of the Battery Division of the Electrochemical Chemical Society and the 2010 Ampere Award.
Her research interests include the use of solid state NMR and diffraction methods to investigate structure and dynamics in materials for energy storage and conversion and in environmental chemistry
Related Links
University of Cambridge
Clare Grey's Homepage
External links will open in a new browser window