Norman Heatley Award 2011 Winner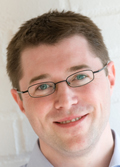 David Spring
University of Cambridge
Awarded for your work on diversity generation in organic synthesis and its application to the discovery of novel bioactive compounds including chemical probes.

About the Winner
David R. Spring is currently a Senior Lecturer at the University of Cambridge within the Chemistry Department and a Fellow of Trinity College.
He gained his BA (Hons) and MA in Chemistry (1995) from the University of Oxford, where he also achieved his D.Phil (1998) for work on the proposed biosynthesis of the manzamine alkaloids under the supervision of Sir Jack E. Baldwin. He then moved to Harvard University to work with Stuart L. Schreiber as a Wellcome Trust Postdoctoral Fellow and Fulbright Scholar (1999-2001), after which he joined the faculty at the University of Cambridge as a BBSRC David Phillips Fellow (2001-2006) and an EPSRC Advanced Fellow (2006-2011).
He was promoted to a University Lectureship in 2006 and to a Senior Lectureship in 2008. He was elected a Fellow of Trinity College in 2007.
Dr Spring's research spans the disciplines of chemistry and biology through the synthesis of small molecules, which are applied to problems in the life sciences. In particular, he has focused on diversity-oriented synthesis, new synthetic methodologies and chemical biology in order to discover new antibiotics and anticancer drugs. In addition, he has developed microarray technologies for high throughput small molecule synthesis and screening.
He is a founder member of the Cambridge Molecular Therapeutics Programme that aims to use various approaches to find small molecules that disrupt protein- protein interactions of targets relevant to cancer.

Related Links
Spring Group - University of Cambridge
David Spring homepage
External links will open in a new browser window