Robert Robinson Lectureship Previous Winner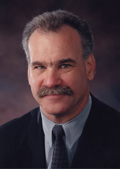 Scott Denmark FRSC
University of Illinois at Urbana-Champaign, USA
Awarded for his pioneering work in the areas of Lewis base catalysed asymmetric processes, cross-coupling reactions based on organosilanols, and tandem cycloadditions using nitroalkenes.
Professor Denmark visited the UK in November 2009 and delivered a lecture at a number of locations. His symposium took place at the University of Birmingham on 11 November, at which he received his medal and certificate.
About the winner
Scott E. Denmark was born in New York on 17 June 1953. He obtained his degree from M.I.T. in 1975 and his graduate studies were carried out at the ETH-Zürich under the direction of Professor Albert Eschenmoser, culminating in a D. Sc. Tech degree in 1980. That same year he began his career as assistant professor at the University of Illinois. He was promoted to associate professor in 1986, full professor in 1987 and then in 1991 named the Reynold C. Fuson Professor of Chemistry.
Professor Denmark is primarily interested in the invention of new synthetic reactions and elucidation the origin of stereocontrol in carbon-carbon bond forming reactions. The current emphasis in his laboratories focuses on the relationship between structure, reactivity and stereoselectivity in a variety of organoelement processes.
He has pioneered the concept of chiral Lewis base activation of Lewis acids for catalysis in main group synthetic organic chemistry. His group has also developed palladium-catalyzed cross couplings with organofunctional silicon compounds. In addition his research program encompasses the development and application of tandem heterodiene cycloadditions for the synthesis of complex natural (alkaloids) and unnatural (fenestranes) nitrogen containing compounds. His group maintains a long-standing interest organolithium and -zinc chemistry.
Professor Denmark has won a number of honors for both research and teaching and is a Fellow of the Royal Society of Chemistry and the American Association for the Advancement of Science. He has received numerous honorary lectureships and has held visiting professorships at several universities (U of Rochester, UC-Irvine, U of Minnesota, U of Paris-Orsay).
Professor Denmark is currently on the Board of Editors of Organic Syntheses and has served on many editorial advisory boards. In 2007 he became Editor in Chief and President of Organic Reactions.
Related Links
Scott Denmark's Homepage
Department of Chemistry at the University of Illinois at Urbana-Champaign, UK
External links will open in a new browser window