Sustainable Energy Award 2011 Winner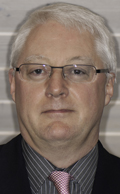 Edwin Constable
University of Basel
Awarded for his work on supramolecular coordination chemistry for the design and fabrication of next generation energy-devices, especially his work centred on energy generation from photovoltaics and efficient lighting devices based on LECs & OLEDs

About the Winner
Professor Edwin (Ed) Constable has been involved in supramolecular chemistry since its inception and has published over 500 research papers and many books. He studied chemistry at St. Catherine's College, Oxford, completing his Part II with Dr Morrin Acheson studying acridine intercalators. His doctoral studies were also in Oxford, where he worked with Professor Ken Seddon on the design of metal complexes for solar cells. He then moved to Cambridge where he held sequentially an 1851 Research Fellowship, a University Demonstratorship and Lectureship and was a Fellow of Darwin and Robinson Colleges. In 1993 he accepted a call to the Chair of Inorganic Chemistry in Basel where he remained until 2000 when he returned to the United Kingdom to a Chair of Chemistry in Birmingham.
In 2002 he returned to Basel where he currently holds a Chair of Chemistry. He is Research Dean of the Faculty and designated Vice-Rector for Research. His interests and expertise lie in metallosupramolecular and materials chemistry, especially in the use of metal ions for the assembly of novel architectures incorporating specific electronic or photophysical properties. He is a highly cited researcher and is actively involved in industrial collaborations, national and EU funded programs relating to interfacial and heterogeneous chemistry and their application to nanoscale electronic, catalytic and electrocatalytic devices. Interest centres upon the development of new dyes for the dye-sensitized nano crystalline solar cell (in collaboration with Michael Graetzel, Lausanne) and new materials for OLEDs and related lighting technologies (collaboration with Henk Bolink, Valencia).
He received an ERC Advanced Grant (2011-2016) for his project LiLo (Light-In, Light-Out) relating to sustainable materials chemistry and is actively involved in the Swiss Nanoscience Institute. He has a strong record of funding in pure and applied science projects and a long-standing interest in the use of homogeneous and heterogeneous systems for solar energy conversion and for water activation chemistry. He runs the research group jointly with his wife, Professor Catherine Housecroft.
Related Links
University of Basel, Department of Chemistry
Edwin Constable hompage
External links will open in a new browser window