We're no dummies, say condom manufacturers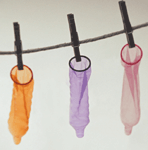 Not suitable for children
Companies involved in condom production and testing have vociferously rejected claims of a potential carcinogenic risk associated with use of their products.
Researchers at the Chemical and Veterinary Investigation Institute in Stuttgart reported that harmful levels of carcinogenic nitrosamines were released by 29 of 32 condom brands tested when they came into contact with bodily fluids. The researchers have urged manufacturers to address the problem and seek alternative, non-carcinogenic chemicals for use in place of nitrosamines, which are added to improve elasticity.
Condom producers Durex were quick to respond. 'This is completely unsupported by medical and scientific evidence and no regulatory body has ever called for limits to be set on levels of nitrosamines in condoms,' said a company spokesperson the day the data were released.
A more detailed rebuttal was sent to Germany's national television company ZDF by the country's 'condom research council' Deutsche Latex Forschungsgemeinschaft Kondome, of which Durex is a member. The letter, passed to Chemistry World by officials at Durex, is dated the day ZDF broadcast a report on the research on 28 May.
'The European standards authority has quite consciously omitted setting limits for nitrosamines or nitrosable substances [in condoms], because it considers there to be no question of risk,' begins the letter. By contrast, nitrosamine limits have been set on latex products likely to come into contact with very young children and relatively large volumes of saliva, such as dummies and plastic teats on bottles. 'It would be impermissible and unjustifiable to compare condoms and bottle teats or dummies, either with regard to the mode of use or to the duration of use,' urge the authors.
Both Durex and Deutsche Latex Forschungsgemeinschaft Kondome cite a toxicological evaluation of nitrosamines in condoms carried out by Ehrhardt Proksch at the University of Kiel, Germany, which concluded that 'epidemiological studies do not support a role for condoms in the induction of cancer' ( Int. J. Hyg. Environ. Health, 2001, 204, 103). But, says Werner Altkofer who led the research at Stuttgart's Chemical and Veterinary Investigation Institute, this needs updating.
'We put this issue on our homepage to inform producers and consumers about this problem,' Altkofer told Chemistry World, 'to force the producers to perform measures for the reduction of nitrosamine-contents in condoms.' The response from condom manufacturers surprised him. 'I feel like we have thrown a stone in an ant-hill,' he said. 'They have known the nitrosamine-problem for many years and have not performed measures to minimise it.'
Bea Perks
Related Links
Chemisches und Veterinäruntersuchungsamt Stuttgart
External links will open in a new browser window