Templates for holes in polymers
An easy, cheap way to make polymers with large in-built holes has been developed after a fortuitous discovery by UK chemists.
Stuart James and Qiang Wei at Queen's University Belfast were intrigued when a solution containing an iron(iii) complex and an organic ligand formed a gel rather than the expected crystalline solid. This suggests there is rapid cross-linking polymerisation between the two species forming coordination polymers which themselves crosslink leaving large solvent-filled cavities.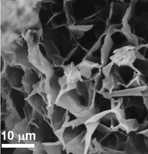 Polymers with large holes are made with the help of iron complexes
Further studies showed that a gel is also formed when the iron complex and the organic ligand react in the presence of organic polymer precursors. The original metal-organic components can be washed out of this gel leaving behind an organic polymer with sizeable holes where the solution was located.
Templated porous organic polymers like these have many uses, including chemical and biological separations and storage. This way of making them also has the advantage of being cheaper and more straightforward than current techniques.
Kirsty Anderson
References
b418554d