Too many sperm spoil the egg
US scientists claim to have developed a lab on a chip that mimics egg cell fertilisation in live pigs.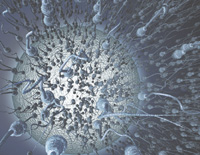 Microscale system mimics egg fertilisation
© iStockphotos
A difficulty for in vitro fertilisation (IVF) is that two or more sperm can penetrate the egg cell - an occurrence known as polyspermy. This leads to abnormal development of the embryo.
Matthew Wheeler and colleagues have produced a microscale system involving tiny channels to reduce the incidence of polyspermy in IVF, and increase the number of potentially viable embryos. The physical environment in the channels is thought to be responsible for the differences between the microscale and traditional IVF systems.
When fertilisation happens naturally the egg cell is held at the site of fertilisation and the flow of sperm towards it is guided by a narrowing of the tube leading to the egg. A similar holding of the egg cell and channelling of sperm occurs in Wheeler's system. It is hoped that the system will provide insights into biological processes that are difficult to study in nature.
Niamh O'Connor
References
S G Clark et al, Lab Chip, 2005 (DOI: 10.1039/b504397m)