Sensing low oxygen levels
A luminescent material that can detect low levels of oxygen has been prepared by Chinese materials chemists.
Yue Wang and colleagues from the key laboratory for supramolecular structure and materials at Jinlin University, Changchun, incorporated a luminescent platinum-porphyrin complex into mesoporous silica. The luminescence of the mixed material dropped sharply when exposed to oxygen, with response times of less than one second. It was also particularly sensitive to low levels of oxygen.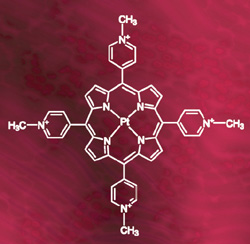 Luminescent platinum-porphyrin complex incorporated into mesoporous silica for sensing low oxygen levels
The new material was prepared by simply adding mesoporous silica to a solution of the platinum complex. The complex occupies channels in the silica and, as a result, the mixed material inherits the luminescence properties of the complex without affecting the silica's structure.
The sensitivity and response times of the new material make it 'a good candidate for developing high performance oxygen-sensing materials', said Wang.
David Barden
References
H Zhang et al, J. Mater. Chem., 2005, 15, 3181 (DOI: 10.1039/b503336e)