Golden opportunity to halt quicksilver trade
Arthur Rogers/Strasbourg, France
The European Parliament is supporting plans to ban exports of mercury. Politicians hope such a ban would curb hazards in the developing world created by the use of mercury in activities such as wildcat gold mining.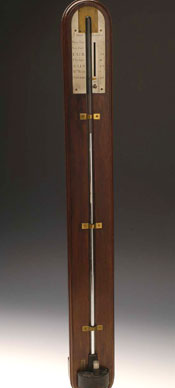 The end for traditional barometer makers and restorers
Demand for mercury grew strongly in developing countries between 2001 and 2006 as the price of gold soared from $260 (£130) to $725 per ounce, according to the United Nations Environment Programme.
UNEP estimates that use of quicksilver in artisanal mining to capture specks of gold in a gold-mercury amalgam accounts for around a third of all anthropogenic emissions of mercury, at up to 1000 tonnes a year. EU exports amounting to 800 tonnes a year mean that developing countries 'serve as Europe's dumping ground', according to Greek MEP Dimitrios Papadimoulis, the Parliament's rapporteur on the draft legislation.
MEPs want to extend the prohibition to exports of cinnabar ore and compounds with a mercury content of more than five per cent by weight.
An investigation has revealed that mercury from decommissioned chlor-alkali plants in the European chemicals industry was being sold to Europe's dominant mercury trading firm in Spain, before shipping to Germany for conversion into mercuric oxide, and finally sold to China for the manufacture of button-cell batteries. Those batteries then turned up in mass-produced watches sold in the EU and US.
The proposed export ban is a further initiative under the EU Mercury Strategy approved by MEPs in March 2006, which predicts further restrictions on the metal within the EU. Makers of highly specialised medical instruments will be exempted, but not traditional barometer makers and restorers, barring some late reprieve for Britain's three registered manufacturers.
The exports issue is proving controversial. The European Commission points out that mercury mining had ceased in the EU, with the end of operations in Spain's Almaden region, so an export ban on ore would be particularly pointless. It may be 2011 before the regulations are agreed.