Goodbye ICI?
On 4 June, Imperial Chemical Industries received a £7.2 billion (600p per share) offer from Dutch chemicals company Akzo Nobel. The ICI board unanimously rejected the offer, saying it significantly undervalued the company. Leading ICI shareholders have subsequently said any offer for the company should be above 700p per share.
As Chemistry World went to press, Akzo were yet to submit a revised offer, although the firm has not ruled out further bids. And while the predicted barrage of bids from Germany's BASF, and DuPont and Dow Chemical in the US, has failed to materialise, some industry analysts predict that it is only a matter of time before ICI shareholders are wooed once more.
'Major ICI shareholders are saying they need a good price,' said Colin Harrison, chair of Chemistry Innovation, part of the UK government's knowledge transfer network. 'But the major Akzo shareholders are saying the company mustn't overpay. Maybe there will end up being an auction, or maybe no one will be willing to pay.'
Proud history
Imperial Chemical Industries was created in 1926 when four British chemical industry tycoons agreed to merge their companies. Their creation produced chemicals, fertilisers, insecticides, dyestuffs, metals, paints, and explosives; one of the four founding companies was Nobel Industries, the explosives business established in 1870 by dynamite inventor Alfred Nobel.
ICI first diversified into pharmaceuticals in the 1930s. At the time, ICI's medicinal chemistry research consisted of a small team within the dyestuffs organisation, but the group developed drugs to control bacterial and parasitic infection. From small beginnings, ICI's drug department went on to produce the first effective synthetic malaria drug in the 1940s, and to invent beta blockers for heart problems in the 1960s.
But as competitors shifted their production to lower cost centres, ICI's profitability declined, reporting its first ever loss in 1980. The recession of the 1990s saw the end of ICI as a highly diversified chemicals giant, as it demerged its pharmaceutical and agrochemicals businesses to spawn Zeneca, with the balance of the company gradually shifting from bulk chemicals to higher-margin speciality chemicals.
Today the company is focused on coatings, adhesives, starch and synthetic polymers. It's ICI's strength in decorative paints, and the power of the Dulux brand, that has attracted attention from Akzo, which has emphasised synergies with its own strengths in industrial coatings. Akzo is also cash-rich after selling its pharmaceuticals business for 11 billion euros (£7.5 billion) to Schering-Plough in March (see Chemistry World, April 2007).
'A badly managed company is easy to take over,' said Harrison. 'But ICI is now a competently managed, cost-competitive company, as the share price shows.' ICI shares are currently trading at around 625p, up from around 370p in July 2006.
Imperial legacy
For some, the decline of Imperial Chemical Industries has come to represent the decline of UK manufacturing as a whole. However, this overlooks the fact that many of ICI's offspring companies are still operating successfully in the UK, said Bruce Lane, chairman of the RSC's speciality chemicals sector. ICI's former pharmaceuticals business, now trading as AstraZeneca and still a partly British-owned company, is the world's eighth largest pharma firm by revenue. Meanwhile, the ICI agrochemicals businesses still operates in the UK as Syngenta, and various other former ICI facilities are now owned and run by UK chemicals group Ineos.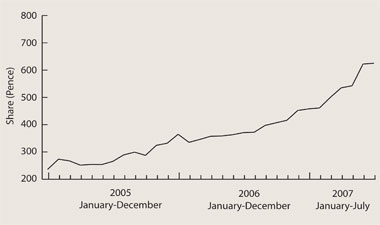 ICI's share price has climbed steadily over the past two years
While the UK economy is today dominated by banking, with London now the world's leading international financial centre, it's still important for the UK to retain its manufacturing sector, argues Harrison. 'It's never good to put all your eggs in one basket,' he said. 'While manufacturing in the UK may be weaker than in other developed countries, the chemical industry is a still a significant contributor to the UK economy.'
So does it matter that ICI may soon no longer even be British? If it does end up in the hands of foreign owners, they would be very unlikely to pull the plug on any UK facilities, said Harrison. 'Whoever buys ICI will pay good money for a technology base that is just as valuable as its brands. A company's technology and innovation is mainly held in people, and any buyer is unlikely to want to move these people as experience shows this doesn't work.'
'When DuPont bought ICI's polyester films business, it already owned a polyester plant in the US. However, DuPont chose to keep open the former ICI plant in the north east UK, on the basis of the people there and the research they did, and close the US plant,' Harrison continued.
'We welcome the decision of chemical businesses to operate in our country, whether they are headquartered here or not,' said Steve Elliott, chief executive of the Chemical Industries Association. 'The CIA is working to make the UK the best place for chemical businesses to operate, and we're proud that companies from so many nations choose to do that.'
James Mitchell Crow