Drug companies slash workforces
Anglo-Swedish pharmaceutical company AstraZeneca announced on 1 February that it plans to cut 3000 jobs worldwide, reducing its workforce by 4.6 per cent. The move followed an even more dramatic downsizing announced by the world's biggest drug firm, Pfizer.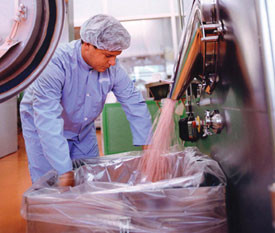 Manufacuturing AstraZeneca's top selling drug nexium
© AstraZeneca
AstraZeneca hopes that by streamlining its operation it can offset the growing financial threat from cheap generic copies of its best-selling blood pressure drug, Toprol-XL, which it says has caused a decline in sales. Nevertheless, the company has reported unexpectedly cheerful fourth quarter profits, with net income rising 17 per cent on last year to $1.43 billion (£729 million).
Toprol-XL contains a beta blocker called metoprolol, which has been marketed in generic form by a company owned by Swiss rival Novartis since November 2006. Part of AstraZeneca's patent on the drug was overturned in the US in January 2006, clearing the way for a flood of copycats to eat into the market. Toprol-XL had earned AstraZeneca an estimated $1.3 billion in the US in 2005.
On 19 December 2006, the company had taken a further blow when the European Patent Office overturned its substance patent on the antacid agent Nexium, its top-selling drug. However, the company still holds patents on the manufacturing process and methods of use for Nexium until 2010, meaning that other companies would have to run their own clinical trials before they can market their own generics versions.
Toprol contains metroprolol as its succinate derivative
Matt Worrall, a spokesperson for the UK's Association of British Pharmaceutical Industry, told
Chemistry World
that attitudes towards generics in the UK cause problems for drug companies. 'The UK has the highest rates of generic prescribing in Europe and this affects the competitiveness of the country as a base for pharmaceutical research,' he said. AstraZeneca's CEO David Brennan said that their job cuts will happen over the next three years, and likely affect the manufacturing and distribution side of the business.
Testing times for Pfizer
Pfizer took an even more dramatic step to rescue its ailing revenues on 22 January. Chief executive Jeffrey Kindler announced a new 'streamlined' vision for the future of the company, including ten thousand job cuts worldwide. Losing around 10 per cent of Pfizer's international workforce in this way is just part of an effort to make annual savings of up to $2 billion by 2008. But, Kindler stresses, this goes much further than cost cutting.
Pfizer says that by 2008 it expects to have just 48 manufacturing plants, down from 93 in 2003. It also plans to lose five research sites; three in Michigan, US, along with its facilities at Amboise, France and Nagoya, Japan. Each of their disease research areas will now be consolidated at a single research site. A Pfizer spokesperson told Chemistry World that the majority of the job cuts were within sales and marketing, and that no R&D jobs would be lost in the UK.
With the patent on the obesity blockbuster, Lipitor, expiring in 2011 and its replacement, Torcetrapib, now withdrawn, Pfizer seems to be facing troubled times.
Simon King, a pharmaceutical specialist from UK-based market analysts Datamonitor, predicts that the demise of Lipitor's exclusivity will force Pfizer over a 'generic cliff', where the market will be flooded with cheap copies.
Indeed, King and other industry analysts forecast gloomy financial times ahead for all of the pharmaceutical giants.
High hopes
Pfizer's hopes are now riding on Kindler's vision for the future, which will see the company's focus moving away from blockbusters and towards more specialised treatments.
In his presentation at the end of January, Kindler said that his company would look outside of its own research, acquiring more products from external sources, and concentrate funding into the most promising lines of research.
For example, it will move away from gastrointestinal and dermatological research and channel more resources into vaccines and antibodies.
'This isn't a surprising move,' one industry insider told Chemistry World. 'The FDA approved three new vaccines last year and the biologicals market is now worth between two and three billion pounds.
Pfizer doesn't have a good portfolio in that area and they are aiming to develop it.'
Matt Worrall added that a significant trend was emerging, with small biotech companies being bought out by larger companies.
'After a few years of vaccines being in the doldrums, an increased understanding of the causes of disease has generated new demand for them,' he said.
King predicts similar changes for other companies over the next year.
'It seems unlikely that Big Pharma can sustain growth while one third of revenues are channeled into sales and marketing costs, and just one sixth are invested in R & D.'
Victoria Gill