Gene dreams troubled by market realities
31 August 2007
Hepeng Jia/ Beijing, China
It has been four years since China's drug regulator approved the worlds' first commercialised gene therapy. This summer, the scientist who ran the original clinical trials on the therapy announced follow-up results that, he claimed, were proof positive: gene therapy can cure cancer.
Yet gene therapy has not taken off commercially, and scientific uncertainties still surround the controversial treatment. 'We need a better scientific and market environment to fully exploit the promise of gene therapy,' says Peng Zhaohui, chairman of Shenzhen-based SiBiono, the producer of the first commercialised gene therapy, Gendicine.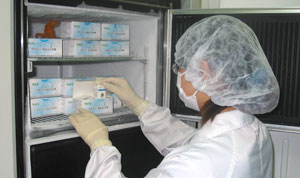 Gendicine is the world's first commercialised gene therapy treatment
© SIBIONO
Gendicine relies on the fact that more than 50 per cent of human tumours have a dysfunctional gene to make the protein p53, a cellular anticancer agent. Not only can p53 activate DNA repair proteins, it also initiates cell death (apoptosis) if any genome damage is irreparable. So without p53 in place, tumour suppression is severely reduced and cancers can proliferate. Gendicine works by inserting the gene for p53 back into the patients' cells, allowing endogenous production of p53 - and therefore tumour suppression - to resume (see box, 'How gene therapy works').
In October 2003, China's State Food and Drug Administration (SFDA) approved Gendicine, after the medicine showed some promising results in tumour regression among 99 head and neck squamous cell carcinoma patients.
In November 2005, SFDA approved H101, the world's first commercialised tumour-killing virus, produced by Shanghai Sunway Biotech. A subtype of gene therapy, H101 (commercially sold as Oncorine) is a genetically-modified type-five adenovirus which can selectively replicate inside tumour cells with dysfunctional p53 genes, killing them and stopping the cancer's spread.
These are the world's only commercially available gene therapies. Yet after desperate struggles to expand its market, SiBiono was acquired by NASDAQ-listed Chinese pharmaceutical firm Benda for only US$15 million (£7.6 million).
Oncorine, which hit the market in November 2006, has also reported a minimal market share. So how did China steal a march on the rest of the world - and why has the rich promise of gene therapy failed to materialise?
Factors for success
The very conditions that led to the rapid development of gene therapy in China are now drawing fire from critics, who say that the approvals of Gendicine and Oncorine were too hasty.
According to Hu Fang, president of Sunway Biotech, a key factor behind China's leap forward in this field is that more than 10 per cent of China's annual tally of 2.5 million new cancer patients suffer from head and neck squamous cell carcinoma. This affords a large pool of patients for clinical trials, and their lack of medical insurance makes it easier and cheaper to enroll them.
Government funding is another advantage. SiBiono received 50 million yuan (£3.3 million) from various government grants and public foundations, accounting for more than half of Gendicine's research and development costs. Sunway Biotech's US$30 million budget for Oncorine all came from the State-owned Shanghai Industrial Co Ltd, its mother company.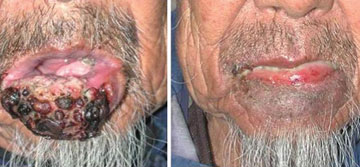 SiBiono claims dramatic improvements in patients treated with Gendicine after just two months (right)
© IBIONO
Seeing an opportunity to catch up with the West, China's SFDA allowed relatively low patient numbers for the clinical trials of Gendicine: a total of 135 patients, much less than the number commonly required for a novel drug in the US.
'Although the patient number [for Gendicine] is less . we have obtained statistically meaningful results,' insists Zhang Shanwen of Beijing Cancer Hospital, who chaired Gendicine's clinical trials. 'All of our research and clinical trial procedures strictly abide by Western criteria,' agrees Peng.
Mark Tang, CEO of World Technology Ventures, a Jersey City, New Jersey-based investment company, pointed out that the SFDA gave its approvals based on the tumour regression rate induced by gene therapy. In the US, researchers must show an improvement in patients' survival rate over five years before approval will be considered.
Those five-year results are now in. On 8 June, Zhang presented data on the five-year survival rate of Gendicine patients at the Tenth National Thermotherapy Conference held in Beijing. He found that out of 26 patients given a combination of Gendicine and radiotherapy, 17 of them survived for 5 years, and 16 of them were completely tumour free at the end of that period. That contrasts with a control group of 27 who didn't take Gendicine: 14 were still alive after five years, but only 10 were left completely tumour free.
'I think now we can confidently say Gendicine's efficacy is reliable,' says Zhang. Jack Roth of the University of Texas MD Anderson Cancer Center, who first proposed the idea of using the p53 gene for cancer treatment, confirmed that Gendicine seems to have similar efficacy to p53 gene therapy he has studied in the United States. But he cautions the survival rate improvement is based on patient numbers that are far too small to be statistically reliable.
Slow sales
Peng estimates that Gendicine has treated about 6000 patients, including some 800 from overseas, yet this is far less than a conventional novel cancer drug. Hu refuses to give Oncorine's patient numbers, but admits the figure is not as great as the company expected. The drugs' high price tag - 3800 yuan (£252) per dose of Gendicine and 3680 yuan (£244) for Oncorine - and the fact that they are not covered by China's medical insurance have prevented many poorer patients from using them.
Mixed results from the treatment may also dissuade some patients. Hu blames Chinese doctors and nurses who are not accustomed to giving intratumour injections, necessary to prevent the patient's immune system killing off the viral vector before it reaches tumour cells. 'Some doctors have used venous injections, which have greatly decreased the effect of gene therapies,' Hu told Chemistry World.
'And although researches and off-label uses have proved Gendicine's efficacy to other cancers, many doctors are loath to try off-label uses of the drug,' Zhang adds. The two developers claim that they cannot afford to train enough doctors to administer the therapy correctly.
Despite the slow sales of Gendicine and Oncorine, Chinese biopharmaceutical companies are queuing up to join the market. According to Sang Guowei, former deputy director of SFDA, the clinical trials of more than 19 gene therapies had been launched or were about to launch in China by November 2005. Liu Xinyuan, a renowned scientist of the Shanghai Institutes for Biological Sciences, the Chinese Academy of Sciences, says: 'Gene therapy is a breakthrough point for China to narrow its gap with the world's leading biopharmaceutical researches.'
SiBiono and Sunway Biotech are hoping that the international market may boost their sales. 'The fact that so many foreign patients come to us without being covered by their medical insurance indicates a promising future for us to expand as widely as possible,' Peng says.
Gene therapy researcher Zheng Dexian, a senior scientist of the Chinese Academy of Medical Sciences, adds that the high-profile commercialization has made it easier to find outside investors to enter the field. SiBiono has recently signed an agreement with an Indian firm - which Peng refused to name - to launch a clinical trial in India for Gendicine's approval.
'If India, where the costs of clinical trials are relatively low, can approve our drug, Gendicine can go to more areas of the developing world and even some smaller developed countries,' predicts Peng. The company has insufficient resources to mount clinical trials in Europe or the US, he admits.
Hu also has global ambitions. In March 2005, Sunway Biotech purchased a license to develop Onyx-015, a prototype gene therapy equivalent to Oncorine. The therapy had been abandoned by California-based Onyx after dissatisfactory results in a stage II clinical trial in 2003. According to Hu, Sunway Biotech is about to sign a cooperation strategy with US biotech giant Genzyme to help launch a US clinical trial of Onyx-015.
But the science behind Chinese gene therapies may make international progress difficult. Molecular biologist Masatoshi Tagawa, of Japan's Chiba University, says that Gendicine's data on survival rate improvement would not be enough to persuade drug evaluators in other countries to approve it. 'But the results will encourage cancer patients,' he adds. 'They are asking for any kind of possibility to survive.'
How gene therapy works
Gendicine uses an adenovirus as a carrier, or vector, to take tumour-suppressing DNA directly to a tumour. Since mutations in the p53 tumour-suppressing gene are associated with many types of cancer, inserting the normal (or unmutated) version of the gene into the tumour cells can block the series of molecular events that lead to tumour growth.
A segment of DNA is inserted into the genome of an adenovirus (a species of virus able to get inside the nucleus of human cells), which is then injected directly into the tumour.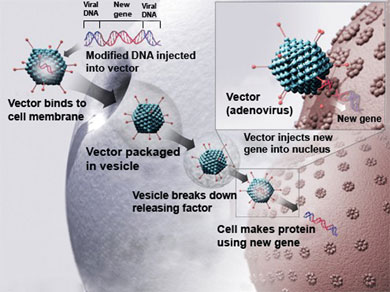 © NATIONAL LIBRARY OF MEDICINE, US
When the virus gets inside the nucleus of the cell it replicates, just as it would during infection, spreading the normal gene inside the cell. The healthy genes are then used to make proteins which suppress tumour growth.