Star molecule for solar cells
Chemists in China have developed a useful star-shaped monomer for use in polymer solar cells (right ). The new monomer forms a 3D conjugated polymer that shows increased efficiency and solubility over the linear polymers that are typically used in these cells.
Polymer-based solar cells are a promising alternative to traditional silicon cells because they are lightweight, flexible, and easy to make. But current cells are not very efficient at harvesting light.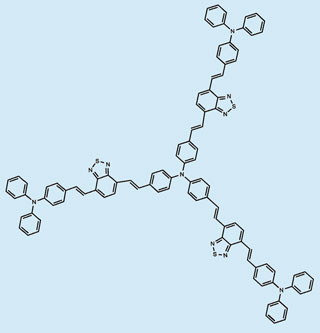 The cells are made from a blend of two components - an electron donor and an electron acceptor. Linear polymers usually make up the electron donor molecules because the extensive delocalised p -electrons are easily excited by light from the visible spectrum. These electrons transfer to electron-acceptor molecules - such as fullerenes - which carry the charge through the cell to move electrical current.
Now, chemists have found that switching from using a linear polymer to a branched polymer (dendrimer) can improve efficiency.
'When compared to other solution-processable organic photovoltaic materials, our star-shaped molecule has among the highest efficiency at 1.33 per cent,' says Li Yongfang who led the research at the Beijing National Laboratory for Molecular Sciences in Beijing, China.
Li's star-shaped molecule, which is made from triphenylamine groups linked by carbon-carbon double bonds, absorbs light across a broader range of the spectrum than its linear analogue, making it nearly four times more efficient at harvesting light.
'Similar efficiencies have been seen before, but this is an interesting idea,' says James Durrant, a solar cell expert at Imperial College, London. 'It is easy to see how electrical charge could percolate well through the cell using a modified branched polymer like this.'
Li's team now plans to investigate the electron acceptor component to see if it can find one that works better with their branched electron donor.
Lewis Brindley
References
Chang He et al, J. Mater. Chem., 2008, DOI: 10.1039/b807456a