December 2008
Vol 5, No 12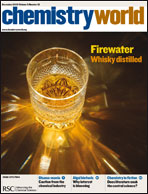 News and analysis
Chemical science
Chinese news supplement
06 November 2008
Fuel-forming reactions coupled to boost their efficiency
03 October 2008
Egg whites have found a novel use as a template for making inorganic nanotubes, thanks to Chinese scientists.
Features
Is this the most chemically complicated drink in the world? Victoria Gill attempts to unlock some of the mysteries of Scotch malt whisky
Chemistry makes occasional appearances in fiction but rarely takes centre stage. Philip Ball unearths chemistry's fictional roles
Christopher Ingold's insights into mechanism and reactivity established many of the principles of organic chemistry. John Ridd reveals more about his life and work
Not every country in Europe can afford a synchrotron. So as new member states join, how is EU funding getting the best out of research across the continent? Clare Sansom reports
Opinion
Does literature snub the central science?
The Engineering and Physical Sciences Research Council (EPSRC) outlines the opportunities for chemists offered by its new delivery plan
Organic chemistry is a key part of the EPSRC strategy, say senior chemistry leaders in the UK pharmaceutical industry
Chemistry World Jobs
Toys aren't safe to distribute until specially trained scientists have destroyed them, reports Emma Davies
Gas technologist John Irven never forgets his first scientific influences, writes Yfke Hager
Caroline Tolond sniffs out job opportunities in the fragrance industry
The Undergraduate Ambassadors' Scheme is an ideal way to find out whether a teacher's life is for you, writes Sarah Houlton
Regulars
Signer's elegant apparatus for measuring molecular weights in solution
Anyone who has any laboratory teaching experience can tell you how difficult it can be to get students to follow instructions
20 years ago in Chemistry in Britain