Civil servants need 'a scientist over their shoulder'
John Denham, the UK's Secretary of state for innovation, universities and skills, has said that he wants more scientists to advise government policy makers - and that they should be rewarded for doing so through the Research Assessment Exercise (RAE).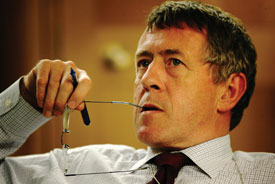 'Our aim is to embed scientific evidence and advice in all policy making,' said Denham, in a speech to the Royal Society for the encouragement of Arts, Manufactures and Commerce (RSA) on 16 January.
'I want every civil servant to have a scientist over their shoulder,' he added - referring to the success of the civil service 'judge over your shoulder' scheme, which promoted the use of legal advice in government.
Denham said that scientists who advise government may not be adequately recognised by the RAE, which awards funding to UK universities based on the quality of their research. The system, which is currently under review, should be changed to give more weight to work that supports policy making.
'To my mind a scientist who produces fewer papers but produces excellent evidence and advice in the national interest on behalf of government should not feel that they disadvantage themselves, their research colleagues or their institution, when research funds are distributed,' he said.
Denham added that he also wants to improve the public's appreciation of scientific evidence and risk. 'Having a scientifically engaged public and media doesn't involve them knowing the periodic table by heart,' he said. 'It means them recognising that science is not just a body of facts, but a discipline with established methods of inquiry, peer review, and responsible governance.'
Ananyo Bhattacharya