Introducing China's biggest chemistry project
21 November 2007
Hepeng Jia/ Beijing, China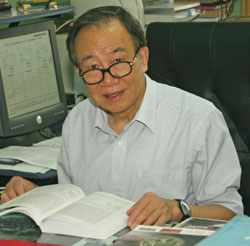 Zhang Lihe chairs the project's steering committee
Research starts in earnest this month on one of the biggest chemistry projects ever undertaken in China. The
US$20 million programme will use small molecules to probe the biochemical basis of disease, which could ultimately help to develop new treatments.
'Our project will use chemical conceptions and methods to study various life science phenomena,' explains Zhang Lihe of Peking University, who chairs the project's steering committee and is also a fellow of the Royal Society of Chemistry.
The project - 'Signal transduction process based on small chemical molecules as probes' - is funded by the National Natural Science Foundation of China (NSFC), and will last for eight years. It is the first key research project approved by NSFC during China's Eleventh Five-year Plan (2006-2010) and the most highly-funded chemistry research programme in China to date.
The whole project involves several different research themes that will attempt to block, mimic or activate certain biological processes with small molecules, either synthetic or natural products.
'Unlike traditional biological studies, such as biochemistry, the project is dominated by chemistry,' says Chen Yi of the Institute of Chemistry, Chinese Academy of Sciences (CAS), and a member of the project's steering committee. 'Using small molecules as probes to detect life signal transduction can take advantage of the easier synthesis of chemicals outside bodies, faster control and more convenient observation,' he added. 'For example, inserting a small molecule to block gene expression into proteins enables us to understand the very complicated functions of the target gene.'
Key projects
Chen told Chemistry World that so far four individual studies - based on free applications within the discipline - have been approved. Each of the individual studies is funded to the tune of several million yuan per year, more than 10 times the average NSFC funding for general chemical research projects.
In one of them, Liu Gang of the Beijing-based Institute of Materia Medica, Chinese Academy of Medical Sciences, is studying how heterocyclic molecules can intervene in gene pathways that cause inflammation.
'We already know of certain genes related to inflammation, and we are using the group of molecules developed by us to adjust their expression process, hopefully to identify new targets for potential drugs,' Liu told Chemistry World.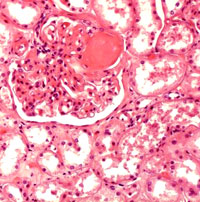 Chemists at CAS' Shanghai Institute of Materia Medica are exploring molecular mechanisms involved in type 2 diabetes
© CORBIS
Employing high-throughput screening, Liu says his study is different to conventional drug screening in which thousands of chemicals are tested to see whether one of them work on certain known targets. In our study, we identify both targets and molecules that function on them.' When the most appropriate target is identified, scientists will refine the molecule's structure to maximise its efficacy, so that it can be developed into a drug.
Separately, Shen Xu of CAS' Shanghai Institute of Materia Medica, has used a molecule called LX0278 to probe into a protein GLUT4, a key protein for glucose transfer in the body. Insufficient glucose transfer is a typical form of so-called body resistance to insulin, a major cause of type 2 diabetes.
'LX0278 can both translocate and express GLUT4, and we are using the molecule to probe the multi-targets for GLUT4 to function in the body. In this way, we will explore the molecular mechanism to increase the body's sensitivity to insulin and discover potential pharmaceutical compounds,' Shen says.
Another team, headed by Yao Zhujun of CAS' Shanghai Institute of Chemistry, is using molecules extracted from a herb used in traditional Chinese medicine (TCM) to trace the mechanism leading to arthritis.
'TCM has proved to be effective on arthritis clinically, and by using the most active molecules to test various function targets of the disease, we can not only better understand arthritis, but also help clarify the mechanism of TCM,' Yao told Chemistry World.
Taking a shortcut
Zhang believes that unlike traditional drug screening, using huge numbers of compounds, research in this project may find some shortcuts by using just hundreds of compounds to reach their goal. 'From the very beginning, scientists design their molecules based on their perceived uses in targets. When they are close to revealing the signals of the targets, they can refine their molecular structures for optimisation,' he says.
While Chinese chemists are pushing ahead with these chemical biology studies, they also face the challenge posed by the lack of a comprehensive chemical compound database in China. Liu admits that this could be a problem, but he says: 'Through the chemical molecule probe project, which combines various pioneer studies, we can develop such a database to benefit the whole chemistry
field in China.'