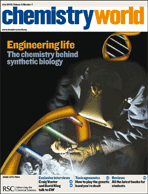 News and analysis
Chemical science
Chinese news supplement
13 June 2008
Controls over making and transporting chemicals ahead of the games could push up prices
18 June 2008
Chemical industry reconstruction and new nuclear build could be put on hold
23 June 2008
History of Chinese dynasties recorded in metal deposits
30 May 2008
Light-activated molecular brake adds stopping power to spinning nanomachines
19 May 2008
On-chip method allows fully automated cell migration studies.
Features
Chemists are at the forefront of synthetic biology, the burgeoning field that could soon create artificial life. Ananyo Bhattacharya reports
In an exclusive interview, controversial scientist and entrepreneur Craig Venter tells Richard Corfield how he thinks synthetic genomics can save the planet
As BP approaches its centenary, Sean Milmo finds out how the UK energy giant plans to innovate its way out its recent troubles and to navigate a turbulent market
After seven years as the UK government's chief scientific adviser, chemist David King is still fighting to keep climate change at the top of the political agenda.
Predictive toxicogenomics uses the genetic hand you're dealt to forecast your reaction to environmental chemicals. Lisa Melton reports
Opinion
Philip Ball gets down to earth with chemical archaeologists
Dylan Stiles can light your fire (and put it out again)
Chemistry World Jobs
Redundancy can be the catalyst for taking on a more senior role, reports Sarah Houlton
The chemistry and engineering aspects of process development have been brought together in a new MSc course, reports Yfke Hager
Whatever your interests, Caroline Tolond might have just the job. Here are some options for analytical chemists who want to work with animals
Andy Fowler's experience at the bench and in the factory helps chemists keep their work safe, reports Susan Aldridge
Regulars
George Bernard Shaw once described Britain and America as being 'two countries divided by a common language
Which chemist's work has touched the most lives? Marie Curie? Louis Pasteur? Joseph Lister?
30 years ago in Chemistry in Britain