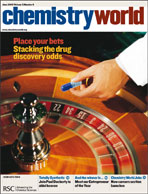 News and analysis
Chemical science
Chinese news supplement
08 May 2008
Special registration rules to speed approval and encourage innovation
In a fillip to domestic carmakers developing cleaner vehicles China's National Development and Reform Commission (NDRC) has ratified the production of a hydrogen fuel cell powered ...
Job losses and closures as China's plastic bag ban comes into force
Features
Sarah Houlton finds out about some chemical tricks that can give a new drug the best possible odds of success
Countries are turning to their commercial forests as a source of non-agricultural biofuels. Elisabeth Jeffries reports
A discouraging chemistry teacher and a failed rock band just made Harren Jhoti all the more determined to succeed. Sarah Houlton meets the 2008 Chemistry World Entrepreneur of the ...
The use of palm oil to make biodiesel has incited environmental and humanitarian concerns. Jane Qiu unpicks the controversy and the possibilities
Opinion
Chemistry World is pleased to unveil a trio of innovations this month, spanning both our print and online offerings
The UK's research funding system is suffering from government interference, says Sean McWhinnie
Derek Lowe dreams of the day when chemists and biologists can understand each other
Philip Ball delights in tortured carbon atoms
Dylan Stiles is bedazzled by computational chemistry
Chemistry World Jobs
With so many chemistry courses on offer, it makes sense to get some first-hand experience before you make your choice, says Robert Bowles
How do you decide which course is right for you? Yfke Hager helps you narrow down the options
Taking a short course and tailoring your CV could really help you to break into a new field, says Caroline Tolond
An early fascination with chemistry grew into a remarkable research career for Katherine Holt. Yfke Hager meets her
Regulars
Western travellers to the East fuelled a fashion for Orientalism which reached its height in the 19th century
From time to time I translate public relations documents on progress in science and technology
20 years ago in Chemistry in Britain