October 2008
Vol 5, No 10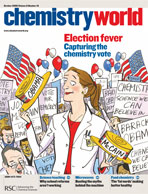 News and analysis
Chemical science
Chinese news supplement
29 September 2008
Scientists have made a range of structures that mimic water-repellant surfaces found in nature
09 September 2008
New tricks for an old organic semiconductor
Features
Microwaves are moving beyond organic synthesis, but there is still some confusion about what they do to molecules. Richard Van Noorden reports
As the US prepares for its presidential election, Rebecca Trager looks at where each candidate stands on science
As we look forward to the 2008 Nobel prizes, Mike Sutton recalls the work of two scientists who redefined chemistry's disciplinary boundaries
One of the world's largest food companies has reinvented its approach to R&D. Victoria Gill reports
Opinion
The Large Hadron Collider captured the public's imagination but is it time to reconsider funding for particle physics?
The presidents of the American Chemical Society and the American Chemistry Council discuss their wishlists for the new administration
Derek Lowe seeks a cure for 'compound bloat'
Philip Ball asks if you can spare him 429 228 004 229 952 oscillations of your time
Chemistry World Jobs
The Undergraduate Ambassadors' Scheme is an ideal way to find out whether a teacher's life is for you, writes Sarah Houlton
An enthusiasm for 'creating stuff in the lab' coupled with early entrepreneurial promise make these interesting times for recent PhD graduate David Rabuka, writes Emma Davies
Take a tour round a careers fair, read the paper, and consult your peers before you plan your next move, advises Caroline Tolond
How far back in time can you take your knowledge of chemistry? John Bonner talks to the experts
Regulars
In the name of effective multi-tasking, modern technology tries to combine as many functions into one small gadget as possible
Beset by continuing political haggling over the license fee.
40 years ago in Chemistry in Britain