Shanghai hosts chemistry expo
Hepeng Jia/Beijing, China
More than 350 international and Chinese analysis equipment providers, including US firms Agilent, Thermo Fisher, and PerkinElmer, and Germany-based Analytik Jena, will take part in Analytica China 2008.
The exhibition will take place from 23-25 September 2008 at the Shanghai New International Expo Centre in Pudong. Its main focus will be analysis of foods and traditional Chinese medicines (TCMs). A series of academic meetings will be held in parallel with the exhibition, including one organised by the RSC.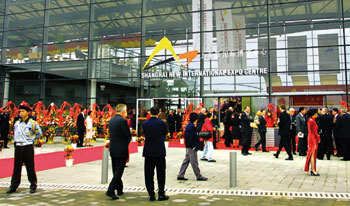 The Shanghai New International Expo Centre will host Analytica China
© MUNICH TRADE FAIRS CO LTD
The event reflects China's rapidly expanding presence in the field of chemistry. The country is now the world's third largest chemical product manufacturer, after the US and Japan, and at the current rate of growth it is set to take the number one spot by 2015. Meanwhile, the chemical sciences top China's academic output. In 2006, Chinese chemists published 30 815 papers in international journals, ranking top of all academic disciplines. Chemistry also had the highest number of international citations of Chinese scientific papers.
This is the fourth time that Shanghai has hosted Analytica China. According to the event's organiser Munich Trade Fairs (MTF), there will be about 25 more exhibitors than in 2006. 'The increase in the number of exhibitors proves that we selected the right growth market,' says Klaus Dittrich, managing director of MTF.
Analytica China 2008 will also host the Analytica China Conference and a Sino-German Symposium, in which 20 prominent German and Chinese scientists will lecture on R&D trends in the field of analytical instruments.
The RSC, which publishes Chemistry World , will present the 2008 Chemistry World: China lecture, in conjunction with the exhibition, on 24 September. Key speakers from Shell, Fudan University and Shanghai Research Institute of Chemical Industry will share their experiences of industrial and academic partnerships, catalytic research and stable isotope research.
'As a major international publisher and society promoting chemistry, the RSC is pleased to be supporting this key conference in the chemistry calendar that brings together some of the top chemists in China with colleagues from the rest of the world,' says Neville Reed, director of communications at the RSC.