September 2008
Vol 5, No 9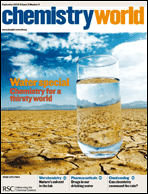 News and analysis
Chemical science
Chinese news supplement
Features
Drugs have been finding their way into our water supplies for as long as they have been in use, so should we worry? Maria Burke reports
The field of water analysis is entering a new area, with much talk of data sharing, new testing devices and water quality forecasting, as Emma Davies discovers
Can a bit of simple chemistry command the clouds? Richard Van Noorden reports
Nature's favourite solvent can also give great results in the lab, as James Mitchell Crow finds out
As water shortage becomes an increasing concern, the chemical industry aims to use it wisely. Sean Milmo reports
Waters Corporation's first liquid chromatography machines soon became indispensable. In its 50th year, the US firm continues to break new ground, as Yfke Hager discovers
Opinion
One third of the world's population already lives in water-scarce areas.
The chemical sciences lie at the heart of a globally sustainable water supply, writes Elizabeth Milsom
Derek Lowe remembers leaving the ivory towers of academe to trade 'unusual and beautiful' for 'useful'
You don't need to understand the science bits, says Philip Ball, just what they represent
Dylan Stiles sets sail for the Great Pacific Garbage Patch
Chemistry World Jobs
Industry has joined forces with the EPSRC to improve the UK's research funding formula. Emma Davies finds out more
Isabelle Cozzarelli uses her knowledge of chemistry to protect and manage water resources. Yfke Hager meets her
Fancy working with explosives? Caroline Tolond lights the blue touch paper and stands well back
The commercial arm of Cancer Research UK has some exciting opportunities for medicinal chemists, reports Yfke Hager
Regulars
Few who have listened to the music of Richard Wagner can remain indifferent to it.
My first memory of being taught chemistry is being told to learn the names of all the elements, in order.
20 years ago in Chemistry in Britain