Market Place
Tandem Tof MS
At Pittcon 2009, Bruker Daltronics of Billerica, MA, US, exhibited its maXis electrospray ultra-high resolution tandem TOF mass spectrometer.
The maXis is ideal for use in quantitative proteomics, peptide and intact protein analysis as well as small molecule identification.
The maXis combines mass accuracy of better than 1 ppm, ultra-high mass resolving power of 40,000 to 60,000;, dynamic range over five orders of magnitude and very high m/z capabilities. The instrument's exceptional stability enables 1.5 mDa high-resolution extracted ion chromatograms (hrEIC), as well as outstanding sensitivity, all in MS and MS/MS mode and all maintained simultaneously - even when coupled to fast liquid chromatography systems. The maXis combines mass accuracy of better than 1 ppm, ultra-high mass resolving power of 40,000 to 60,000, dynamic range over five orders of magnitude and very high m/z capabilities. The instrument's exceptional stability
Unambiguous, on-the-fly molecular formula read-out is possible when the SmartFormula 3D method is used.
info@bruker-daltonics.com
Atoms displayed
JEOL announced the launch of a new scanning /transmission electron microscope (S/TEM) that enables atomic level analysis at Pittcon 2009. The JEM-ARM200F incorporates a spherical aberration corrector to enhance the spatial resolution and uses high probe currents to enable sub-angstrom microanalysis .
This 200-kV spherical aberration-corrected S/TEM achieves a high angle annular dark-field resolution of 0.08nm and maximum tilt angle is approximately 25°. It enables both atom-by-atom imaging resolution and atom-to-atom chemical mapping of materials.
The microscope offers high stability for imaging and analysis at the subnanometer scale with STEM image magnification ranging from 100x to 150,000,000x, and TEM image magnification from 50x to 2,000,000x .
The electron column is isolated from the environmental disturbances found in most labs, and an advanced shielding design safeguards the ultrahigh-power optics from airflow, vibration and acoustic interference. Additional shielding protects against electronic interference, magnetic fields and thermal fluctuations.
info@jeol.com
Portable rock analyser
inXitu of Mountain View, CA, US, received the gold Pittcon Editors' Award at the 2009 Pittcon Conference held in Chicago, US, from 8-13 March 2009. The award went to the inXitu Terra portable x-ray diffraction / x-ray fluorescence (XRD/XRF) system, designed specifically for rock and mineral analysis in the field. Apart from its portability in a rugged compact case, this instrument has a sample handling system that not only minimises sample preparation time but also ensures peak identification accuracy that would otherwise only be achievable using laboratory-based systems.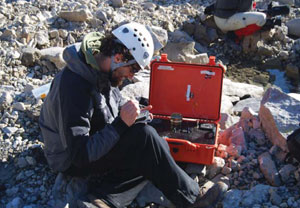 Although designed as a field geology/mineralogy instrument, aspects of the Terra have been implemented in the CheMin instrument developed at Nasa and will be incorporated in its next flagship mission to Mars.
info@inxitu.com
UV-visible spectrometer
Thermo Fisher launched the NanoDrop 2000c UV/visible spectrometer at Pittcon 2009. It combines micro-volume analysis (sample sizes can be as low as 0.5

l for some samples) with unmatched speed.
The instrument automatically adjusts the sample pathlength eliminating the need for sample dilution and is ideal for laboratories wishing to measure analytes with low wavelength absorbance (such as peptides at 205nm).
It operates in a wider sensitivity range than conventional spectrophotometers and can analyse dsDNA at concentrations up to 15,000ng/

l. In addition, it now adds the capability of analysing samples in cuvettes.
analyze@thermofisher.com
Drug analysis
Cobalt Light Systems of Harwell, UK, (formerly known as LiteThru) launched the TRS100 Rapid Assay System for pharmaceutical analysis at Pittcon 2009.
The system is based on spatially offset Raman spectroscopy (SORS) which combines Raman spectroscopy with light scattering, to allow deep sub-surface chemical analysis.
Samples are analysed intact, avoiding the need to open capsules or break up tablets and prepare samples. One hundred samples can be analysed in less than five minutes, and their chemical composition, polymorph concentration and amorphous content determined.
darren.andrews@cobaltlight.com
Isotopic carbon analysis
The silver Pittcon Editors' Award went to Picarro (Sunnyvale, CA)and OI Analytical (College Station, TX) for their new iTOC-CRDS isotopic carbon analyser. The instrument combines an OI Analytical total organic carbon (TOC) analyzer with a Picarro G1103-i cavity ring down spectrometer (WS-CRDS) to measure total organic carbon (TOC), total inorganic carbon (TIC), or total carbon (TC) along with the isotopic ratio of 12C and 13C) carbon (
13C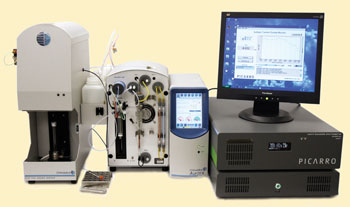 This new hyphenated technique (iTOC-CRDS) enables the analysis of both organic and inorganic compounds in solid or liquid samples.
Applications include origin of food and adulteration analyses for such products as wine, fruit juice, edible oils, seeds, fruits, chocolate and dairy products.
In addition, carbon isotope distribution can be determined in soils, sediments, and plant materials as well as limnology, hydrobiology, marine and freshwater ecosystem studies.
info@picarro.com
sales@oico.com
MALDI-TOF for protein sequencing
At Pittcon 2009, Bruker Daltonics launched two Edmass MALDI-TOF instruments for rapid protein sequencing and provides an alternative to Edman sequencing. Based on high-performance MALDI-TOF mass spectrometry and unique software algorithms, the Edmass instruments employ rapid MALDI-ISD (In-Source Decay) to fragment intact proteins across a wide mass range in fractions of a second, eliminating the need for protein digestion.
The Edmass range contains two different instruments, the Edmass Ultra and the Edmass Micro.
The Edmass Ultra is based on an ultraFlex III 200 Hz smartBeam laser MALDI-TOF/TOF and can identify and validate C- and N-terminal sequence information directly in a mass spectrometer - very rapidly.
The Edmass Micro is based on a cost-effective, bench-top, linear microFlex LT MALDI-TOF.
info@bruker-daltonics.com
LC-MS
At Pittcon 2009, Thermo Fisher debuted the Exactive benchtop LC-MS system designed for compound screening and identification applications. It is fast, easy-to-use and cost-effective to operate, making it an ideal instrument for non-experts in routine analytical laboratories.
The Exactive LC-MS streamlines many of the technical steps that normally require specialized set-up and operation. An intuitive software interface makes the system easy-to-use in both expert and 'walk-up' mode, while ensuring precise mass identification of target compounds over a wide concentration range.
While simple to operate, Exactive sets new standards for LC-MS performance, at resolutions of up to 100,000. The instrument's excellent single scan mass accuracy in both positive and negative modes, makes the Exactive an ideal system for common screening and high-throughput applications.
analyze@thermofisher.com
Nanoarray Fab
At Pittcon 2009, NanoInk launched the NPL2000 desktop nanoarray fabrication system designed to provide cost-effective, rapid and reproducible nanoarrays.
Patterns of nano- to micro-sized features may be created using a variety of materials from metal nanoparticles to biomolecules. Researchers are able to rapidly design and create custom engineered and functionalised surfaces using Dip Pen Nanolithography (DPN) to transfer nanolitre or smaller amounts over a large, environmentally controlled area.
The system's pen arrays can write simultaneously over areas as large as 40mm x 40mm - delivering a spot size over a broad dynamic range of 50nm up to tens of microns. Using NanoInk's Inkwell devices, multiple materials may be deposited in one step.
The NLP 2000 will write onto a diverse range of substrates including Petri dishes, and coverslips. The use of a standard optical microscope slide makes the creation of the arrays easily portable to various standard detection systems. The large format and work area also permit the use of a variety of tissue culture plastic dishes.
info@nanoink.net
Particle size analyser
Shimadzu has received the bronze Pittcon Editors' Award for the IG-1000 particle sizing instrument. Going beyond the single nano region and into the sub-nano region, the IG-1000 uses the newly developed induced grating (IG) method to accurately and reproducibly size particles.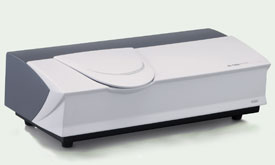 The IG method does not use scattered light, but instead uses induced electrophoresis and diffracted light techniques without the need to input the refractive index of the solvent.
The IG-1000 is particularly effective for the analysis of single nanoparticles, measuring particles in the 0.5 to 200 nm range in about 30 seconds. In contrast to light scattering techniques it is particularly effective at sizing sub-10 nm particles.
info@shimadzu.com
NIR spectrometer
At Pittcon 2009, MicrOptix of Wilton, ME, US, launched the iLab S860 near-infrared (NIR) portable spectrometer which is powered by just three AA batteries.
Operating in transmission mode, the system measures from 600 to 1100nm - enabling the estimation of the octane rating of gasoline to the determination of the alcohol content of wines and liquors.
sales@microptix.com
HPLC fittings
At Pittcon 2009, Dionex of Sunnyvale, CA, US, launched the Viper chromatography fitting system, a 100 MPa compatible, patent-pending, stainless steel, fingertight fitting system to be used with UHPLC and HPLC systems.
It is the first commercial fitting system in the history of HPLC that does not rely on ferrules or ferrule shaped parts to tighten to high and ultra-high pressures. It guarantees correct fitting each time it is used and guarantees zero-dead-volume connections. It can be fitted to any common column hardware or injection/switching valve platform on the HPLC market.
The Viper fittings are designed to prevent capillaries from slipping away from the column inlet even under ultra high pressures and guarantees long-term, robust, zero-dead-volume operation.
Viper is incredibly easy to use as it reconnects easily between different column hardware. It also features an integrated removable tool to tighten without force and it even fits spaces as small as the connections of a 10-port valve, once the integrated tool is removed.
info@dionex.com
Solid state DNP-NMR
At Pittcon 2009, Bruker BioSpin launched its Avance Solid-State DNP-NMR spectrometer - the first solid-state NMR system that uses the Dynamic Nuclear Polarization (DNP) technique.
The system consists of an Avance III NMR spectrometer, configured for solid-state NMR, combined with a gyrotron source delivering high-power 263GHz microwave irradiation and a specialized low-temperature DNP/NMR probe in an easy to use, integrated and industrialised package.
By transferring the magnetisation from electron spins to the nuclear spins, signal enhancement factors of approximately 50x and 150x , can be achieved, enabling researchers to study samples that otherwise would have been inaccessible to solid-state NMR, such as certain membrane proteins or samples which are available only in very limited amounts or at dilute concentrations.
thorsten.thiel@bruker.de