China accelerates carbon capture trials
By Hepeng Jia/Beijing, China
China's State-owned Huaneng Group is building a 100 000-tonne post-combustion carbon capture (PCC) facility in one of its power plants in Shanghai.
The news was revealed by Liu Yu, a senior engineer at GreenGen, a clean coal-based power firm controlled by Huaneng, at a workshop on carbon capture organised by British Council in Beijing on 17 June.
On 12 June, GreenGen had announced that the National Development and Reform Commission (NDRC) had approved its plans to build China's first pilot IGCC (integrated gasification combined cycle) facility in Tianjin. The Tianjin plant is 25 megawatts, much smaller than conventional thermal power plants.
PCC facilities capture carbon dioxide from power station flue gases with solvents, while IGCC plants can remove carbon dioxide from the gasified coal before it is burned.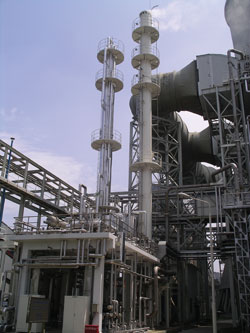 The Shanghai and Tianjin pilot projects are only parts of China's mushrooming efforts to advance carbon capture and storage (CCS) pilot projects. According to Li Xiaochun from the Chinese Academy of Sciences' Institute of Rock and Soil Mechanics in Wuhan, a leading scientist involved in China's CCS planning, there are 20 IGCC projects being prepared by major power and energy giants in China, though thus far NDRC has approved none of them.
'China's [power sector] is at a crossroads. One direction is the more mature ultra supercritical systems [using high pressure to increase generation efficiency] which has lower costs but cannot reduce carbon emissions, and another way is the more expensive IGCC, which can realise near-zero emissions,' Li told Chemistry World.
Chinese power generation firms have to prepare themselves for any possible emission reduction obligation in the future, he adds.
Chinabegan its CCS attempt as late as 2008, when a 3,000-ton PCC facility was installed in a power plant in Huaneng in Beijing. (See Chemistry World: China, October 2008, p C3).
So far, no plans regarding the storage of the captured carbon from the Huaneng plants has been announced, but Li revealed that the first carbon storage site could be built in the used oil wells in Tianjin's Dagang Oil Field.
'It is crucial for China to trial larger scale CCS facilities to test its technical and economic feasibility,' says Jens Hetland, a senior research scientist at SINTEF Energy Research in Norway, who has participated in several China-EU collaborative research projects in CCS.
In late June, the European Commission set out a new plan to fund up to €50 million (US$70 million) for the construction and operation phase of a CCS project in China.
Chinaneeds to develop a legal framework to facilitate CCS if it wants to fully utilise the technologies, Hetland told Chemistry World.
Li, on the other hand, suggests China should launch more research projects to test various storage sites with varying carbon dioxide purity to avoid the prohibitively high price of capture and storage of pure carbon dioxide.