News in brief
Synthetic peptide 'cures' obesity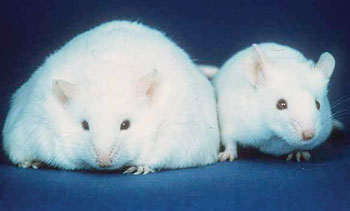 A synthetic peptide caused mice to lose magnificent amounts of weight
© ORNL
US researchers have helped obese mice slim down by injecting them with a synthetic peptide that simultaneously mimics two naturally occurring hormones. The weight loss in the mice has been described as staggering, and opens up the possibility of a new type of drug treatment for obesity in humans.
The synthetic molecule possesses key features of two natural peptide hormones - glucagon and glucagon-like peptide-1 (GLP-1) - which are involved in regulating glucose metabolism and appetite control. When injected into obese mice, after one week the animals' body weights had decreased by 25 per cent and their body fat by 42 per cent. Repeated treatment resulted in greater effect.
Investigations showed that the GLP-1 component of the drug was mainly suppressing appetite, while the glucagon was working to stimulate the burning of calories. Publishing in Nature Chemical Biology (DOI: 10.1038/nchembio.209), the scientists admit that it remains uncertain whether both these mechanisms would be seen in primates, but say that it is something they are committed to finding out.
Which metal is catalysing your reaction?
It seems that iron has been taking the credit for copper's hard work - in the case of iron catalysed cross-coupling reactions at least.
In 2007, a team of German scientists led by Carsten Bolm announced that they had developed the first copper-free iron-catalysed coupling reaction. But, publishing in Angewandte Chemie International Edition (DOI: 10.1002/anie.200902237), the team now admit that it might be copper impurities in the iron catalyst that have been catalysing the reactions all along.
After suspicions were raised by Stephen Buchwald in the US, the researchers collaborated and discovered that the yields of the reactions varied significantly depending on the purity level of the FeCl3 catalyst, and where it was purchased. They also tested the reactions with copper catalyst alone, and found that in some cases essentially identical results to those obtained using the copper-tainted iron catalyst
The researchers suggest that trace metal impurities may be playing an important role in other cross-coupling reactions.
UK science committee re-established
The UK House of Commons has announced that the science and technology select committee will reform on 1 October. The move reverses the unpopular decision made less than two years ago to abolish the working group.
The decision came after some MPs expressed concern that science would not have a large enough voice in UK government, following the merger of the departments responsible for science and business - to form the Department for Business, Innovation and Skills (BIS) - in June (see Chemistry World, July 2009, p10).
The committee will have the same chairman and membership as the previous innovation, universities, science and skills committee. Committee chairman, Phil Willis, and UK science minister, Lord Drayson, have both endorsed this announcement.
Coated soot boosts global warming
Sulfate and nitrate particles in the atmosphere are thought to help combat global warming because they reflect sunlight, but a new study suggests that when combined with soot the particles could actually enhance the warming effect.
Soot absorbs solar energy and ranks behind only carbon dioxide in its potential for contributing to global warming. This effect is made even worse when the soot becomes coated with sulfates and nitrates from the atmosphere, according to US-based scientists. They found that the coating - which forms within a couple of hours of the soot entering the atmosphere - acts like a lens, focusing more light into the soot particle.
Models had already suggested that soot absorption would be enhanced by sulfate or nitrate coatings. But these findings, published in the Proceedings of the National Academy of Sciences USA (DOI: 10.1073/pnas.0900040106), are the first experimental results to support the predictions.
Acrylic bead promise
A more efficient approach to synthesising proline-containing polymer beads has been developed, which could eventually be applied in large-scale organocatalyst production.
The amino acid proline is a useful and versatile organocatalyst for asymmetric reactions, and it is well known that solid-supported prolines are even more effective catalysts.
The team's new approach uses acrylic chemistry as opposed to the styrene chemistry normally used to synthesise polymer supports. This is advantageous, they say, because the new type of polymers can be made to swell in very hydrophobic environments, as well as in water, allowing reactive species to gain better access to catalyst sites in the beads. Publishing in Organic Letters (DOI: 10.1021/ol901134v) the researchers say that they can adjust the amount of catalyst on the bead by changing the ratios of the monomers used in the polymerisation - another advantage over traditional methods where catalyst loadings can be unpredictable.
Name suggested for element 112
The team who discovered element 112 have proposed that it is called copernicium - with the symbol Cp - in honour of 15th century scientist and astronomer Nicolaus Copernicus.
The group led by Sigurd Hofmann at the Institute for heavy ion research in Darmstadt, Germany, were officially credited with discovering this element by the International union of pure and applied chemistry (Iupac) in June (see Chemistry World, July 2009, p4), and therefore had the honour of proposing a name for the element. It will now take approximately six months, during which time a consulation with the scientific community will take place, for the name to be endorsed by Iupac.
Wider menu for marine microbes
Marine dwelling microbes that consume methane for energy, and produce carbon dioxide, may utilise a larger array of oxidants to do this than previously thought, claim US researchers.
Previously, it was believed that sulfate was the only electron acceptor able to facilitate anaerobic oxidation of methane by microbes in marine sediments - although other oxidants are known for freshwater-based microbes. Now the team have shown that manganese and iron can also act as methane oxidants in salt water.
Reporting in Science (DOI: 10.1126/science.1169984), the team say that their findings suggest that iron and manganese could be playing a significant part of early Earth's and today's carbon cycle.
The team also suggest that it is a good earth-analogue metabolism for potential life on methane rich bodies like Mars and Titan.
Searching for water on Enceladus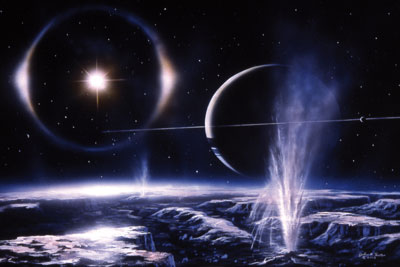 Enceladus may have an ocean of liquid water under its crust
© JOHN FOSTER / SCIENCE PHOTO LIBRARY
Saturn's sixth-largest moon, Enceladus, spews jets of ice grains thousands of kilometres into space - but whether these originate from ice, or a liquid ocean below the moon's surface, is a controversial topic.
Two international teams have used sodium salts as markers to study the ice jets' origins, but using very different approaches. Sodium can be used as a tracer for liquid water, because it contains higher levels of sodium salts than ice.
A team led by Frank Postberg, who published their research in Nature (DOI: 10.1038/nature08046), used the cosmic dust analyser instrument aboard NASA's Cassini spacecraft to study the ice grains in Saturn's outermost E ring - which are thought to come from the jets. Postberg found that some of the particles are quite salty.
However, the jury remains out, as the research done by Nicholas Schneider, published in the same issue of Nature (DOI: 10.1038/nature08070), proved inconclusive. Schneider's team used Earth-based telescopes with spectrometers, but were unable to locate atomic sodium in the vapour surrounding the ice particles either close to the moon's surface or in Saturn's E ring.
Interest in solving this mystery is expected to remain high, because it is postulated that this moon could host extraterrestrial life.