Science Index a target for criticism in China
By Hepeng Jia and Tao Sun/Beijing, China
While the newest 2008 Journal Citation Reports (JCR) released by Thomson Reuters on 20 June has appeased many Chinese journal editors, criticisms of the Science Citation Index (SCI) linked to JCR have flowed in the country's science community.
Each year's JCR publicises the name of journals included in SCI, their impact factors, and the citations among these journals. The 2008 JCR indicates that 6,598 journals are included in SCI, 705 more than the figure in the previous year. The new additions included 34 Chinese journals, bringing the total number of Chinese journals included in the SCI to over 100.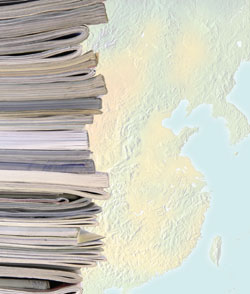 But the initial excitement about the increased presence of Chinese SCI journals soon faded. Rao Yi, a renowned neurobiologist and the dean of Peking University's College of Life Sciences, soon published an article entitled Young scientist: Beware when SCI can harm you on his blog in ScienceNet.cn, the largest science portal in China.
'SCI has grown into a monstrous tumour in China's science and education community,' writes Rao, whose article received 21,046 views in seven days after posting. A number of similar articles appeared over a short period.
'Stupid Chinese Index'
SCI was first used for academic evaluation in China in late 1980s by Nanjing University, whose then president Qu Qinyue reportedly said that the reason for doing so was that an objective evaluation criterion was lacking in the country, and that as many academic disciplines were immature in China, an evaluation based on peer review was impossible.
Nanjing University's approach was soon favoured by the Ministry of Education, and the paper numbers in SCI-indexed journals quickly became the most important tool to evaluate universities and science institutes, which then used the same criteria to assess their scientists.
Funding applications, award entries and academic promotion all require SCI papers as supporting evidence. In an extreme example, China Agricultural University awards prizes of 1 million yuan (US$147,058) to its professors who are corresponding authors for papers in top journals like Nature, Science or Cell.
As a result, the number of China's SCI papers grows rapidly. In 2007, with a total number of 94,800, China became the world's third largest SCI paper producer, after the United States and the United Kingdom.
But according to Rao, the reliance on SCI paper numbers and the status of a journal in which a paper is published has negatively impacted the quality of work produced by China's scientists. 'Only lazy people and those who pretend to have understood an unfamiliar field would use SCI to assess others,' says Rao, who describes the fact as SCI 'idolatry'.
On the other hand, most of China's 5000 science and technology journals are not included in SCI and it is difficult for them to get the high-quality papers which are being submitted to foreign journals.
'For English journals in China, if they are not SCI, they cannot even get enough paper submissions,' says Ren Shengli, executive editor of Advances in Natural Sciences.
The zealous pursuit of SCI papers has led You Suning, editor-in-chief of China Medical Association journals, to suggest the acronym is short for 'Stupid Chinese Index'.
Behind the scenes
The criticism of the SCI in China first appeared in early 2000s. In May 2003, several government organisations, including the Ministry of Science and Technology, the Ministry of Education, the National Natural Science Foundation (NSFC), and the Chinese Academy of Sciences (CAS), issued a joint circular to oppose the sole use of SCI papers to evaluate scientists.
But Chen Jia'er, former head of NSFC, admits the enthusiasm for SCI has not eased since then.
When the index was first introduced as an evaluation tool in China, it was welcomed by academia as an objective tool to reward scientists based on their merits rather than on administrative hierarchy.
Yet Shi Yigong, deputy dean of the School of Medicine of Tsinghua University, says that the rampancy of SCI in China is just a result of the dominance of administrative officials in the evaluation of academic research. The officials do not have enough professional knowledge so they have to rely on SCI.
Wang Hongfei of the CAS Institute of Chemistry suggests that 'the wide use of objective evaluation methods such as SCI in China is mainly because the evaluators want to find a pretext to justify their decisions.' But in fact, it is unlikely that people can find a complete objective standard, he says.
Finding Solutions
Despite the widespread complaints, no one thinks China should say a complete farewell to SCI.
'The higher impact factors of good journals do represent a stricter peer review process, though the SCI journals are not certainly better than non-SCI ones,' Ren told Chemistry World.
Zhang Chunting, a senior professor of bioinformatics at Tianjin University, says in the Chinese situation, it could be unavoidable that laymen make judgments related to funding and talent promotion. In this situation, SCI could be used as a guide rather than as the sole criteria.
Using the citation figure of selected individual papers to trace academic development of scientists in question is comparatively better than relying on the SCI paper numbers or simply the impact factors of the journals where they publish, Zhang suggests.