Suicides cast shadow across overseas talent scheme
By Hepeng Jia/Beijing, China
Amidst the rush to lure top Chinese academics back to China from overseas, the suicides of several young returnees have caused alarm.
Tu Xuxin, 32, with a PhD in engineering from Northwestern University in the US, jumped from a building of the prestigious Hangzhou-based Zhejiang University on 17 September. The suicide took place just three months after Tu was hired by the university from the United States.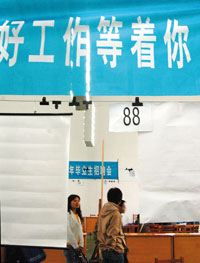 In documents allegedly written by Tu found after his death, the researcher wrote: 'At this moment, I found my decision [of returning China] was wrong.The reality of the domestic academic environment is cruel, discredited, and ruthless.'
Sadly, Tu is not an isolated case.
Nan Fangyuan, a 39-year old professor of electronic engineering at Changsha-based Hunan University who obtained his PhD from Stanford University in the US ended his life in the city on 27 October.
The deaths cast a dark shadow over the heavy investment China has made to attract top overseas talent - mainly Western-trained Chinese. The newly launched One Thousand Talent Scheme aims to hire 1000 top overseas researchers in the five years from 2009.
Only professors working in internationally renowned academic institutions can become part of the talent programme. Professors enrolled in the scheme could receive Yuan1 million (US$147,059) in housing subsidies, high salaries and supreme honours from the government.
While joining the national scheme, leading academic institutions in the country have also initiated their own programmes to attract talent from a wider geographical field. Zhejiang University's plan is to recruit 1,000 key researchers - Tu was one of them.
Tu's friends say Zhejiang University had promised to offer him associate professorship and a good salary but when he formally returned to China, the promises were all broken.
Zhejiang Universitydenies the allegations and says the university did not place unnecessary pressure or undue burdens on the late scientist. It refused any interview but staff in the university's information office told Chemistry World that Tu was seriously depressed.
Cao Cong, a senior research associate with the Levin Institute of the State University of New York, US, says although the suicide is not related to the university, it is a result of the orientation of the nation's overseas talent recruitment programme.
'First, all of the programmes aim to hire established scholars or professionals, which put newly minted PhDs in disadvantageous positions,' Cao told Chemistry World.
Cao adds that instead of simply hiring talent - which is currently considered a political achievement of academic institution leaders - what's more important is how to utilise and retain it.
'The "high-end" returnees hired through various recruitment programmes should first of all help create an academic environment conducive to young scholars' growth and to the production of first-rate research. Only by doing so can we say the programmes are successful,' says Cao.
References
1. S Ye, Drug Evaluation (in Chinese), Vol. 2, No. 2, 2005, 81-90