February 2009
Vol 6, No 2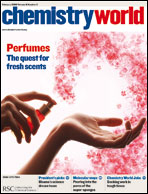 News and analysis
Chemical science
Chinese news supplement
22 December 2008
A new water repellent coating for aluminium foil could prolong the lifetime of air conditioning units, say researchers in China.
17 December 2008
Chinese scientists have developed fluorescent drug delivery vehicles that can be used to monitor drug release
Features
Emma Davies pokes her nose into some of the world's most celebrated perfume molecules
Metal organic frameworks are molecular mops that have the potential to solve some of the world's most pressing environmental problems. Hayley Birch finds out more
Being able to break selected C-H bonds empowers the synthetic chemist and could revolutionise the petrochemical industry, as Emma Davies discovers
One drug can be useful for many different conditions - some of which it isn't licensed for. Peter Mitchell finds out how far is too far when it comes to off-label promotion
Opinion
The results of the UK's 2008 research assessment exercise
How important is it to have the best equipped lab, wonders Derek Lowe
The flowery language of fragrance chemistry doesn't distract Philip Ball from the sharp scent of olfactory understanding
Chemistry World Jobs
Training and funding is available to chemists and related scientists who want to encourage future generations to follow in their footsteps.
US materials scientist Brian Smith got himself an MBA in order to build a business based on his research
CV fashions come and go, and what's good in the UK might not be right for the US. Here are some invaluable pointers from Caroline Tolond.
Big pharma's outsourcing is key to predicted success for a growing UK contract research organisation, reports Emma Davies
Regulars
Humans have been preoccupied with purity for thousands of years
The old carbon-filament electric lamp was essentially a fine graphite filament in a vacuum
20 years ago in Chemistry in Britain