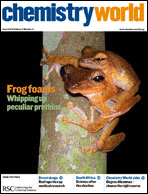 News and analysis
Chemical science
Chinese news supplement
Features
Tropical frogs create remarkable foams to protect their spawn. Exploration of the underlying chemistry has only just begun, as Michael Gross discovers
Fifteen years after Nelson Mandela won South Africa's first democratic election, the 'rainbow nation' continues to face challenges as diverse as its people. Linda Nordling reports
Finding and then raising historic ships wrecked centuries ago is challenging business - but it's just the first part of the rescue process, says Elisabeth Jeffries
Sarah Houlton talks to Hagan Bayley, the 2008 Chemistry World Entrepreneur of the year
Opinion
The latest sector to feel the recession is the world of publishing and journalism.
Lord Drayson, UK government science minister, shares his views on focusing science funding
Derek Lowe wonders about pharmaceutical companies' motives for collaboration
Scientific fraud highlights flaws in the way that scientists communicate with each other, suggests Philip Ball
Chemistry World Jobs
This year's Meet the Universities event promises to bring together record numbers of prospective students and university staff, explains Robert Bowles, RSC ChemNet executive
In just a few short years Karen Bultitude has switched from scientific research to become a sought-after science communicator, writes Helen Carmichael
Whether you're choosing a degree course or looking for a career change, it's vital that ask yourself what you enjoy doing and what makes you tick, advises Caroline Tolond
Synthetic biology is an exciting discipline that links science, engineering and computing. Helen Carmichael reports on how the subject is inching its way into UK universities
Regulars
One man who took little on trust was Wilhelm Ostwald. Born in Riga, Latvia, he studied chemistry at the University of Dorpat (now Tartu, Estonia).
Dr Jekyll and Mr Hyde star in the famous story by Robert Louis Stevenson.
30 years ago in Chemistry in Britain