Chinese NASDAQ launches
Hepeng Jia/Beijing, China
After a decade of appealing for a Chinese NASDAQ-style stock market, the country's entrepreneurs finally witnessed the launch of China's Growth Enterprise Market (GEM) on 1 May, though the market seems unable to feed the capital thirst of thousands of start-ups.
The rule for the GEM was enacted on 31 March by the China Securities Regulatory Commission (CSRC). Unlike the US NASDAQ or Hong Kong GEM that allows loss-making start-ups to list, the rule stipulates that a company qualified to issue stocks in the Chinese GEM must have been established for three years, with two consecutive years' profits of over 10 million yuan (US$1.5 million) and no less than 5 million yuan (US$ 735,300) profit for the year preceding its application for listing.
The GEM market comes after the global credit crunch has led to the bankruptcies of tens of thousands of Chinese start-ups. 'It is good news for small and medium enterprises (SMEs), especially science and technology start-ups,' says Wang Zhiguo, former vice-president of the All-China Federation of Industry and Commerce which represents private sector.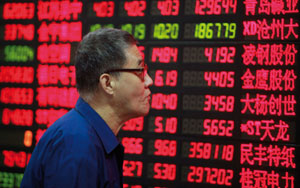 But by requiring the consecutive years' profitability, the high threshold means the GEM cannot play its supposed role of financing start-ups says He Fan, a senior economist of the Institute of World Economics & Politics under the Chinese Academy of Social Sciences.
Xie Tianpei, president of Shanghai-based pharmaceutical Nature Standard, agrees. 'The GEM is particularly unsuitable for pharmaceutical research firms,' he says. 'In their process to develop new drugs, they have no profit, but once they succeed, their income could be enough for them to list in the [more profitable] main-board market, Xie told Chemistry World.
However, Leng Min, a research fellow at the Institute of Policy and Management, Chinese Academy of Sciences, says that the higher threshold for the Chinese GEM is because of the lack of credibility in the Chinese market, which has led to numerous stock speculations and scandals in the country's existing main-board stock market.
'If China sets a very low benchmark for SMEs to list, as in NASDAQ, there could be many scandals and they will destroy the belief of investors and hence the market,' Leng told Chemistry World.
On the other hand, business lawyer Sun Dansheng of Beijing Tianyin Law Firm adds that in the new
energy and environmental technology sector, firms have very high growth potential and they could benefit more from the GEM.