China ends fertiliser price controls
Hepeng Jia/Beijing, China
China has abolished its decade-long regulation of fertiliser prices - but the move has received only lukewarm welcome from an industry struggling due to the economic slowdown.
The liberalisation measures, announced on 24 January 2009 by the National Development and Reform Commission and the Ministry of Finance, lifted the price controls on all fertilisers except potash fertiliser. However, production subsidies will be retained, and support for efficient fertiliser use will be expanded.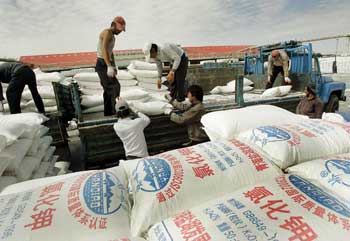 Fertiliser prices in China have slumped as farmers cut costs
© ASSOCIATED PRESS
Economists and industry have long called for the deregulation, but the government has been reluctant to relax its price controls because agriculture has been such a political priority. Yet the move follows a dramatic recent drop in demand, meaning industry hasn't enjoyed the benefit.
'The whole industry is suffering an oversupply due to economic shrinkage, and the abolishment [of price control] has had only a very limited impact,' says Xu Hongzhi, an analyst as Beijing-based agricultural consulting firm BOABC.
According to the Ministry of Agriculture, sulfuric acid-based fertiliser cost 24 per cent less in November 2008 than in October, and 33 per cent less than during the same month in 2007. In December, the price dropped further still.
Reaping rewards
Price deregulation is likely to benefit the bigger players in the market, say analysts. Xu Wenbin, an analyst at Wuhan-based Changjiang Securities, says that price controls were never effectively implemented during the busy farming season, because the numerous fertiliser producers and the vast rural population made the sector difficult to regulate.
'The big players in the industry were more obedient to the price control and so they were disadvantaged in their competition with the smaller producers who ignored the price cap. Without the control, big players can dominate the industry,' Xu Wenbin told Chemistry World.
Xu Wenbin adds that in the long term, lifting the price control should see the fertiliser industry become more market-oriented - the ultimate goal of China's economic reform.
But Xu Hongzhi says that even after the economic crisis ends, the exemption of price control may not attract new investors to enter the field. 'The capital-intensive industry is still limited by the availability of raw material and the control on the more valuable potash fertiliser. Investors will have to think before they decided to come in,' he told Chemistry World.