News in brief
Direct route to RNA sequences
US scientists have cracked a major problem in molecular biology: how to directly sequence single molecules of RNA. This new technique should help improve our understanding of RNA's role in human biology and disease.
Determining the sequence of bases in a strand of RNA currently requires a circuitous route involving conversion into complementary DNA and then amplification. These multiple manipulations are known to introduce errors.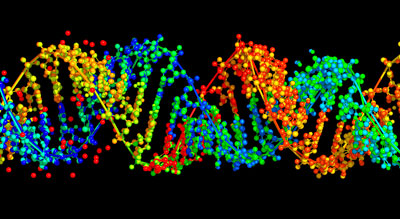 Single molecules of RNA can now be sequenced directly
© LAGUNA DESIGN / SCIENCE PHOTO LIBRARY
The direct sequencing method developed by the biotech company Helicos involves tethering one end of the RNA strand to a surface, then using the exposed chain as a template to construct a complementary strand containing modified bases. The RNA strand is exposed to the four modified nucleotides one at a time. These produce a fluorescent signal when bound to their base pair in the tethered chain, which can be read to determine the RNA sequence in strand.
Publishing in Nature (DOI: 10.1038/08390) the scientists claim that this method provides researchers a path to high throughput and low cost direct RNA sequencing.
Microwave effect ruled out
Microwave reactions in silicon carbide vials - which are heated by microwaves but shield the contents from radiation - have confirmed that most of the benefits seen in microwave-assisted chemistry are purely due to heating.
Austrian researchers led by Oliver Kappe at the University of Graz, have used microwave-absorbing silicon carbide reaction vessels to separate the heating effects of microwave radiation from so-called 'non-thermal' or 'specific' microwave effects, whereby enhancements in reaction rate, yield or selectivity are attributed to some direct interaction of the reaction mixture with the microwave radiation.
The team screened 18 simple reactions for which some kind of microwave enhancement had been reported when compared to conventional heating techniques. Kappe's team ran each reaction in standard glass vials and their silicon carbide vials - and in all cases got almost identical results. Publishing in Angewandte Chemie International Edition (DOI: 10.1002/anie.200904185), the team say that they are now working on exploring the effects in more challenging chemistry.
EPA cracks down on emissions
The US Environmental Protection Agency (EPA) has proposed that large industrial facilities should need to obtain permits if they are to emit more than 25 000 tonnes of greenhouse gases a year.
Under these proposals, unveiled on 30 September, the Clean Air Act permits will only be issued to new facilities, or newly modified old ones, once companies demonstrate that they have installed state-of-the-art emission control technology and energy efficiency measures.
The gases included in the proposal are carbon dioxide, methane, nitrous oxide, hydrofluorocarbons, perfluorocarbons and sulfur hexafluoride. And if implemented, approximately 14,000 facilities, including power plants, refineries and factories in the US, would be affected.
German election may boost science
The results of Germany's 27 September elections indicate that the incoming government is going to make some major changes in German science, including new tax breaks for companies investing in research and development, more freedom on biotechnology issues, and a more open attitude toward nuclear power.
The main reason for the upcoming changes is the impending exit of the Social Democrats, who have for the past four years been in an often unhappy coalition with Chancellor Angela Merkel's CDU/CSU party.
Merkel will now be sharing power with the pro-business Free Democrats, whose party leaders strongly support biotechnology, embryonic stem cell research and nuclear power. The Free Democrats during the election campaign strongly advocated tax cuts for companies carrying out research and development, with Merkel also staking out a lower tax position.
IBM enters race for $1000 genome
Computer giant IBM is bringing its electronics expertise to biotechnology, and entering the race to map the human genome for less than $1000.
It is widely believed that developing a process to cheaply and quickly map the human genome would have far-reaching impact on personalised healthcare and our ability to predict disease before it occurs. And many groups are already working on new ideas. But human DNA is over three billion base pairs long - so creating an automated method that is both fast and accurate is proving to be a real challenge.
IBM's idea is to construct a 'DNA transistor' - a microchip made from repeating layers of metal and insulator, with nanometre-sized holes punched in the surface. Electric fields can be cycled through the hole - gradually pulling DNA strands through base by base. By repeatedly stopping and starting the electric fields, they hope to read off the genetic code.
US chemical safety law changes
The plans to rejuvenate the US chemical safety laws have been outlined by the Environmental Protection Agency (EPA).
After months of squabbles within the US chemical industry about how best to update the 30-year old Toxic Substances Control Act (see Chemistry World, September 2009, p5), on 29 September the EPA announced the Obama administration's goals for the new legislation. These include making it law that manufacturers must provide toxicity information to show that new and existing chemicals are safe - allowing the EPA to assess their risk to human health and the environment. The agency also wants to be granted the authority to take prompt action when chemicals fall short of the safety standard.
Just add He for metallic nanotubes
Adding helium gas when making carbon nanotubes encourages many more of them to grow in the highly conducting metallic form, US researchers have found. This finding should provide access to greatly enhanced samples of nanotubes, for applications from power generation to futuristic circuitry.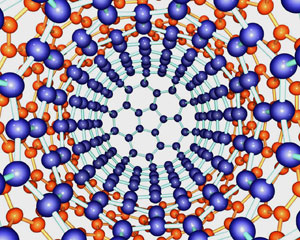 Carbon nanotubes are essentially rolled up sheets of carbon atoms - but they can roll up in different ways, which dramatically affects their properties. Some are highly conducting - termed metallic - and others are semiconducting, and typical growing conditions produce a mixture of the two.
A common way to grow nanotubes is from a mixture of iron nanoparticles and methane gas. Under vacuum and at around 700-800°C, the iron acts as a catalyst, removing carbon from the methane until it becomes saturated. At this point, nanotubes begin to precipitate. The team found that by adding argon or helium to the vacuum chamber they could tweak the ratio of metallic to semiconducting tubes. Publishing in Science (DOI:10.1126/science.1177599) the team report achieving 91 per cent of the metallic form, and claim to be confident that the number can be increased further.
Medicine Nobel for telomere researchers
Three US-based researchers have shared this year's Nobel prize for physiology or medicine for their work towards understanding how chromosomes are protected by 'stoppers' called telomeres and the enzyme telomerase. Their insight into this fundamental cell mechanism has been cited as a major contributor to the development of new therapeutic strategies.
Elizabeth Blackburn, from University of California San Francisco, and Jack Szostak, from Harvard Medical School, each took one third of the prize for their discovery that chromosomes are protected from degradation by a unique DNA sequence in the telomeres.
Carol Greider, from Johns Hopkins University, received the final third, for - together with Blackburn - identifying telomerase, an enzyme that bolts on extra repeats to regulate the ageing process.
The physics Nobel prize recognised work in fibre optics and digital imaging. Half the prize went to Charles Kao, at Standard Telecommunications Laboratories, UK, for his work into the transmission of light in fibres for optical communication. His findings have played a fundamental role in developing today's broadband internet and remote sensors.
The other half was shared between Willard Boyle and George Smith, both at Bell Laboratories in the US, for inventing the first successful imaging technology using a digital sensor. Their CCD (charge-coupled device) sensor is used in digital cameras and many medical imaging applications.
Also of interest
23 September 2009
New technique allows single molecules of RNA to be sequenced directly without the multiple manipulations currently needed

02 October 2009
Microwave-blocking reaction vials rule out special microwave effects for most simple reactions

29 September 2009
Incoming government likely to make major changes in German science that will be felt around the world

08 October 2009
Electronics giant announces plan to build nanoscale DNA sequencer using silicon chips

01 October 2009
Changing carrier gas during nanotube production dramatically improves ratio of metallic tubes