September 2009
Vol 6, No 9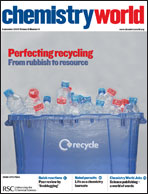 News and analysis
Chemical science
Features
Matthew Chalmers and Nina Notman get the lowdown on life as a Nobel laureate at the the 59th meeting of Nobel laureates
Diseases affecting the developing world have long been neglected, but new partnerships between governments, charities and pharmaceutical firms could change that, says Sarah Houlton...
Throwing away used plastics has environmental consequences and is also wasting a valuable resource. Andy West looks at how waste can be turned into high grade raw materials
Less than three years after forming, Quotient Bioscience is one of the fastest growing pharmaceutical outsourcing companies in the UK. Matt Wilkinson went to meet them
19th century Danish chemist Julius Thomsen dedicated his professional life to a systematic search for a unifying theory of chemical reactivity. Mike Sutton finds out more
Opinion
You could say that this editorial is completely biased. And, to an extent, it is, as it covers new technologies and focuses on Spain
It's impossible to ascribe a monetary value to individual PhD projects but the link between them and UK wealth creation is indisputable, says AstraZeneca's David Lathbury
Derek Lowe wonders why some diseases are easier to drug than others
Philip Ball looks at a new device that creates energy from salinity differences between fresh and sea water
Chemistry World Jobs
Sick of rotary evaporators and mass spec, but still want to make the most of your scientific training? Science publishing might just be the career for you, says Matt Brown
A PhD with chemical biologist Jack Baldwin launched Peter Rutledge into antibiotics research. His enthusiasm has taken him far, writes Karen Harries-Rees
Amanda Halford's chemistry training has proved invaluable in her international marketing career, as she tells Sarah Houlton
If you are thinking of moving into teaching, it's worth first examining your motives and work shadowing a teacher, says Caroline Tolond
Regulars
This year marks the bicentenary of Charles Darwin's birth and the sesquicentenary of his On the Origin of Species, one of the most important and influential books ever published.
40 years ago in Chemistry in Britain