Science and art
Art + science now. How scientific research and technological innovation are becoming key to 21st century aesthetics
Stephen Wilson
London, UK: Thames & Hudson 2010 | 208pp | £29.95 (HB)
ISBN 9780500238684
Reviewed by Hamish Kidd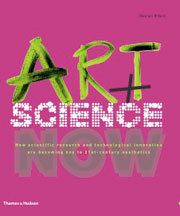 Over the years many artists have drawn inspiration from science and technology. In the pages of this magazine we have seen how crystallography affected interior design of carpets, wallpaper and more at the time of the Festival of Britain in 1953 (
Chemistry World
, September 2008, p74) and how students at the Institute of Contemporary Arts in London were inspired by the work of Nobel prize winning scientists (
Chemistry World
, November 2008, p42).
This beautifully illustrated book is written by Stephen Wilson who is head of the conceptual/information arts program at San Francisco State University, US, and co-editor of Leonardo , the international journal of art and science.
Art + science features the work of 250 artists from around the world. It shows how the artists are using scientific research as inspiration for art in the widest sense - video and sound installations, performance art, computer art and mixed media. After a brief introduction to the history of the relationship between art and science, the book consists of chapters devoted to various fields.
Many of the artworks described are inspired by molecular and human biology, seen as a major area of future scientific discovery, but there are others inspired by the digital revolution, kinetics and robotics and the physical sciences, including chemistry. An example is a room-sized installation which projects the shadows (tracked by infrared sensors) of viewers together with geometric forms representing atoms.
Some of the pictures are strange and some are even disturbing, but the book as a whole shows how diverse is the inspiration drawn from science. It provides hints about how the arts in general remain robust and relevant in our techno-scientific culture and indicates new directions in which visual arts and aesthetics are moving.