Market Place
Analytica special
Particle size
Micromeritics of Norcross, US, launched the Saturn DigiSizer II high definition digital particle size analyser. The system uses advanced digital detection technology to deliver exceptionally high levels of resolution, accuracy, repeatability, and reproducibility.
A state of the art charge coupled device (CCD) detector containing over 3 million detector elements enables the completely automated Saturn DigiSizer II to capture a high resolution, digital representation of the light scattered by a sample when laser light is passed through it. The resulting information is then processed using data reduction based on Mie theory.
Both organic and inorganic particles can be analysed and measured over a range of 40nm to 2500 m m. The Saturn DigiSizer II includes a complete system for circulating the dispersing liquid/sample mixture through the cell and reservoir, as well as to an external waste container. Features such as fully automated sampling and low-volume sample handling systems make the Saturn DigiSizer II ideal for a wide range of production, research, and quality control applications.
info@micromeritics.com
Enlightened pipetting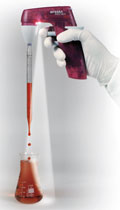 Integra Biosciences of Zizers, Switzerland, has introduced the Pipetboy pro, a pipetting aid that provides accuracy, speed and comfort.
An integral white LED light in the Pipetboy pro illuminates the area around the pipette, aiding accurate pipetting and preventing eyestrain even when dispensing liquids out of an opaque or dark centrifuge tube, or dark bottle
or container.
The Pipetboy Pro enables the user to dose liquids quickly, accurately and reliably by applying variable finger pressure on the pipettor trigger buttons, changing between drop by drop dispensing or fast motorised pipetting at an adjustable speed of up to 10ml/sec.
The Pipetboy Pro weighs 190g and is ergonomically designed to fit comfortably in the user's hand.
info@integra-biosciences.com
Shaking incubator
Bibby Scientific of Stone, UK, has launched the Stuart SI505 shaking incubator, specially designed for use with microtitre plates to meet the needs of life science laboratories.
Offering a shaking action for mixing very small volumes in well plates or microtubes, the SI505 also reduces sample evaporation and includes microprocessor temperature control.
The SI505 incorporates a digital display, retractable stainless steel platform facilitating sample access and USB connectivity for the long term monitoring of the incubator temperature on a PC.
Up to four microtitre plates fit on the non-slip mat and a range of accessory racks for different tube sizes is also available for the SI505.
The integrated timer can be set for any period from one second to nine days, and speed and temperature can be independently controlled using the system's digital LED control panel. The incubators temperature can be set between ambient temperature 7°C and 60°C, while air distribution is controlled to ensure uniformity throughout the sample chamber.
The new shaking incubator incorporates silver-based Biocote antimicrobial protection which reduces the risk of cross contamination and infection within the laboratory by eliminating surface bacteria, mould and fungi.
info@bibby-scientific.com
Peptide synthesis
Biotage of Kungsgatan, Sweden, has introduced the Syro Wave parallel peptide synthesiser with automated microwave technology.
It is the result of a joint development project between Biotage and MultiSynTech.
The system is fully automated, and is based on a pipetting robot with a single arm.
Features include: vortex mixing in the microwave cavity, disposable polypropylene reactor vials, variable scale from 1-300m mol and easy to use Syro XP software.
The combination of conventional room temperature parallel and microwave-assisted technologies increases productivity, yield and purity while cutting costs and saving time.
info@biotage.com
X-ray diffractometer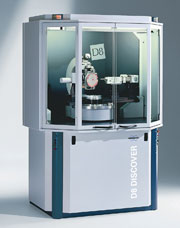 Bruker AXS of Madison, US, has launched the D8 Discover x-ray diffraction system for advanced materials research. The system is easy to use and has with real time component detection, plug and play functionality and fully integrated wo dimensional XRD
2
capabilities.
These features allow the user to easily switch between all materials research x-ray diffraction applications, including reflectometry, high-resolution diffraction, grazing incidence diffraction and small angle x-ray scattering, as well as residual stress and texture investigations.
For micro-diffraction and ultra-fast reciprocal space mapping, the new two-dimensional Vantec-500 detector with 2048 x 2048 channels at 14.4cm2 active area provides the highest sensitivity for detecting even the weakest diffraction signals in short measurement times.
An integral part of the D8 Discover system is the new Diffrac.suite software with consistently implemented automation functionality.
info@bruker-axs.com
Sample prep for XRF
PANalytical of Almelo, the Netherlands, has introduced Eagon 2 - a high performance, fully automated fusion instrument for fused bead sample preparation for x-ray fluorescence (XRF) spectrometry.
It combines all the advantages of gas burner and muffle furnace technology in a system that does not require costly gas supplies, cooling water or compressed air. Its automated functions ensure perfect repetition of the fusion cycle. Preparation conditions are optimised for all sample materials, and a pre-defined method library is provided. A cold-to-cold operation cycle protects users from hot materials and surfaces at all times. In addition, the instrument's outer doors are safety interlocked throughout the fusion cycle to shield operators from moving parts.
Eagon 2 delivers push button optimisation of temperature setting, duration, oxidation steps, mixing and cooling - preparing the perfect fused bead sample, every time.
info@panalytical.com
SFC columns
Waters of Milford, US, has launched its Viridis SFC columns - a new family of analytical and preparative supercritical fluid chromatography (SFC) columns for the isolation and purification of compounds at the milligram to multigram scale.
Viridis columns are available in two chemistries - 2-ethylpyridine and silica - and feature Waters' preparative optimum bed density technology, designed to produce mechanically stable columns with longer lifetimes.
brian_j_murphy@waters.com
Xplorer pipette
Eppendorf, of Hamburg, Germany, has introduced the electronic Xplorer pipette designed for users working with complex or long pipetting series.
With electronic piston stroke, low weight and intuitive user guidance with ergonomic display the Xplorer is characterised by simplicity, precision and reproducibility. The perfect balance and the finger rest guarantee a position that is particularly easy on the joints and the basic functions can be easily selected using a selection wheel.
eppendorf@eppendorf.com
Cell counter in your palm
Millipore, of Billerica, US, has launched Scepter - the first automated cell counter which fits into the palm of the hand. It contains sophisticated electronics for cell sensing, signal processing and data storage. A graphical display reports the cell count and average cell volume within 20s of inserting the tip into a cell culture sample.
The instrument also displays a histogram of cell distribution by volume or diameter; the histogram provides an instant snapshot of the health of the culture. The results can be stored on the instrument or downloaded to a computer.
greg_hoff@millipore.com
ISQ GC-MS
Thermo Fisher Scientific of Waltham, US, has introduced the ISQ single quadrupole gas chromatography-mass spectrometry (ISQ GC-MS) system with a non-venting full-source removal capacity. The system, which features the ExtractBrite ion source, offers simplified operation and maximum uptime for uninterrupted productivity across routine GC-MS applications including forensics, toxicology, food safety and environmental analysis.
When the system requires maintenance, the entire ion source can be removed without venting the analyser.
The ISQ GC-MS offers an extended mass range, from 1.2u to 1100u, for analyses across a varied range of compounds.
analyze@thermofisher.com
Parallel synthesis
Radleys of Saffron Walden, UK, has extended its range of jacketed reactors and parallel synthesisers designed to improve the productivity of the busy medicinal and process chemistry lab, including Reactor-Ready, new Reactor-Ready Duo and upgraded Lara Plus.
These unique reaction systems offer process development chemists and chemical engineers the option to use up to two jacketed and/or vacuum jacketed reactors from 250ml to 10 litres in a single system; saving space, money and time.
sales@radleys.co.uk
Optically navigated AFM
Bruker Nano of Herzogenrath, Germany, launched the N8 Neos - the first atomic force microscope (AFM) designed and operated like a classical optical microscope, but
with atomic scale imaging power.
The sample is optically inspected at lower and then higher magnifications to determine regions of interest. Finally, for the highest, atomic, resolution the compact, interferometry-based Nanos AFM module is used. Mounted on the objective turret just like various optical objectives, the Nanos can be positioned to the localised spot within less than 1 m m simply by a turn of the turret.
The N8 Neos thus provides seamless integration of AFM into the micro- and nanoscopic inspection process.
info@bruker-nano.de
Analysing alloys
Thermo Fisher Scientific of Waltham, US, introduced the Niton XL2 hand-held x-ray fluorescence (XRF) alloy analyser which can detect more than 25 elements from sulfur to uranium.
This lightweight rugged analyser, sealed against moisture and dust, can boost productivity in scrap metal recycling and screen consumer goods, such as toys and apparel. It can also be used in mining and exploration, manufacturing quality assurance, lead paint analysis and other applications.
Ergonomically designed and featuring daylight-readable icons, the Niton XL2 provides customisable menus for ease of use, as well as featuring multi-language options.
analyze@thermofisher.com
Related Links
Micromeritics
Micromeritics is an Industry Leader in Particle Science and Particle Technology
Integra
Pipetboy pro, a pipetting aid that provides accuracy, speed and comfort
Bibby Scientific
Bibby Scientific has launched the Stuart SI505 shaking incubator
Bruker AXS
Bruker AXS designs and manufactures analytical X-ray systems for elemental analysis, materials research and structural investigations
Biotage
Introuction of the Syro Wave parallel peptide synthesiser
PANalytical
Eagon 2 a high performance full automated fusion instrument
Millipore
Advancing Life Science Together
Waters Corporation
Waters has developed innovative analytical science solutions to support customer discoveries, operations, performance, and regulatory compliance
Eppendorf
Xplorer pipette designed for users woring with complex or long pipetting
Thermo Fisher Scientific
The world leader in serving science
Radleys
Innovation of chemistry
Bruker Nano
Bruker Nano is a leading manufacturer of analytical instrumentation for analysis at highest spatial resolution
External links will open in a new browser window