Market Place
Heating blocks
Asynt has launched two new configurations of their DrySyn laboratory heating blocks. The Multi-M and Multi-S both provide compact reaction stations for up to three standard round bottomed flasks, with maximum volumes of 250ml for the Multi-M and 500ml for the Multi-S. Any flask size down to 5ml can be used in both models with the appropriate inserts. Both models can accommodate up to 12 vials or tubes. DrySyn heating blocks offer heating up to 300ºC and are fully compatible with magnetic stirring. They also offer a small footprint and exceptional reaction visibility, the company says. Existing DrySyn Multi users can use their DrySyn inserts in the Multi-M and Multi-S.
DrySyn blocks are made of chemically resistant aluminium and offer an excellent alternative to oil baths and heating mantles, according to the company.
TripleTOF mass spectrometer
AB Sciex of Foster City, US, has launched the TripleTOF 5600 system, which it says is the fastest and most sensitive high-resolution mass spectrometer for high-performance qualitative and quantitative analysis. The system combines on a single platform the quantitative capabilities typically associated with triple quadrupoles and the qualitative capabilities of a high-resolution accurate-mass system, the company says.
The TripleTOF 5600 system provides access to new workflows for comprehensive exploration, rapid profiling and high-resolution measurement of complex samples. According to AB Sciex, it delivers a series of innovations, including 'SmartSpeed 100Hz Acquisition', which gives five times higher speed than any other high-resolution mass spectrometry system; an 'Accelerator TOF Analyser' for rapid high-resolution data; and 'EasyMass Accuracy' to achieve stable ~1ppm mass accuracy without continuous user calibration.
CrossBeam workstation
Carl Zeiss of Oberkochen, Germany, has introduced the Auriga 60 CrossBeam workstation, comprising a focused ion beam (FIB) scanning electron microscope (SEM). The unit enables users to carry out nanoscale imaging of specimen surfaces - giving insight into sample topography and composition. An FIB acts like a nanoscale scalpel, the company says, cutting into the substrate or removing thin slices of material. With the combination of both technologies users can simultaneously 'mill' the specimen, while imaging and controlling the processing. By automatically assembling images of the consecutive milling steps the system creates a 3D model of the sample.
The vacuum chamber of the new Auriga 60 platform is large enough to accommodate wafers of up to 6 inches in diameter. It also allows the user to include up to 23 attachments for diverse chemical or physical experiments. For example, external imaging and analytic detectors, such as energy dispersive x-ray spectroscopy, electron backscattered diffraction and secondary ion mass spectrometry detectors, can be connected. In particular, the novel workstation permits direct cryogenic transfer and examination of deep-frozen specimens. The extended range of options is particularly useful in multi-purpose environments, in which multiple users share the workstation with differest objectives, the company says.
GC-MS
Shimadzu Scientific Instruments of Kyoto, Japan, has launched a gas chromatograph mass spectrometry (GCMS) system featuring high scan speed and sensitivity and providing 2D gas chromatography and ultra-high separation, the company says.
According to Shimadzu, the GCMS-QP2010 Ultra reduces power consumption in analysis standby mode by 36 per cent compared with the previous model in the range.
The unit uses the advanced scanning speed protocol (ASSP), a new patented mass spectrometry technology that optimises the ion transmission hardware parameters with a highly efficient data collection algorithm.
To help increase throughput, the GCMS-QP2010 Ultra features high-speed oven cooling for shorter analysis cycles. Using a double jet cooling system, the gas chromatograph cools from 350°C to 50°C in less than three minutes. The combination of a high-speed GC method and a high-speed cooling oven can reduce the analysis cycle by up to 50 per cent, the company says.
The GCMS-QP2010 Ultra can accept two narrow-bore capillary columns into the mass spectrometer simultaneously. Its twin-line MS system allows users to switch applications without physically modifying the column installation. Users decide which columns are required for analysis and choose the associated injection port.
In all weathers
Ocean Optics of Dunedin, US, has launched the SteadiQ accessory for its field-portable spectrometers to provide a temperature-controlled atmosphere, helping to stabilise temperature effects and eliminate 'drift' in poor conditions or extreme temperatures as low as -20°C and as high as 50°C.
The rugged, portable device assures more accurate, reliable results in field applications including solar irradiance measuring, volcanic observation, greenhouse gas monitoring and industrial environments, such as cold food storage.
Available in both UV (200-1100nm) and Vis-NIR (400-2500nm) versions, the SteadiQ operates in extreme hot or extreme cold conditions independently from outside temperatures.
Phospholipid removal
Waters Corporation of Milford, US, has introduced the Ostro sample preparation plate for the removal of phospholipids from biological samples; phospholipids are a major cause of matrix effects in liquid chromatography mass spectroscopy analysis, the company says.
The Ostro-96 well plate uses 'in-well protein precipitation' with a single rapid pass-through method that, according to Waters, provides a quick, reliable and reproducible solution.
Melting points
Stuart Equipment of Stone, UK, has launched the SMP20 digital melting point apparatus.
The four digit LED display resolves temperature to 0.1°C and, to facilitate temperature recording, a hold button is provided to enable the user to freeze the display at the melting point while the block temperature continues to rise. The user can set the ramp rate anywhere between 1°C and 10°C per minute.
Small footprint FTIR
Thermo Fisher Scientific of Madison, US, has introduced the Nicolet iS5 small-footprint laboratory Fourier transform IR spectrometer, powered by Omnic software. It provides comparable performance to full-size spectrometers, the company says.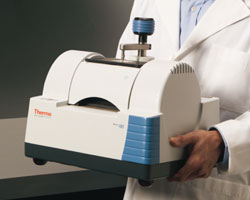 The Nicolet iS5 has an 'open-architecture' sample compartment that accepts a wide variety of sampling accessories. It is suitable for raw materials, impurities and mixtures and can assist in product-assurance testing, troubleshooting and teaching.
Sealing film
Porvair Sciences of King's Lynn, UK, has introduced Microburst, a 'micro-encapsulated' clear sealing film for microplates.
The Microburst sealing film, when first handled, is not sticky thanks to adhesive encapsulated in millions of tiny spheroids and can be quickly and easily moved into position.
Once the film is in the right place, the microcapsules are activated by pressing down hard. The Microburst clear film has excellent optical properties and produces a very firm seal that quickly strengthens for a near-permanent seal on the plates, according to Porvair. It can be pierced by pipette tips or robot liquid handlers and is temperature stable.
UV-visible
Biochrom of Cambridge, UK, has launched the Libra S80 stand-alone UV-vis spectrophotometer, ideal, it says, for both research and method development laboratories.
It features: a double-beam optical design covering 190-1100nm, variable bandwidth and a toluene-in-hexane ratio of more than two at 1nm bandwidth.
The Libra S80 has a colour touch screen display and built-in software application modules. In addition, there is USB connectivity for method and results storage plus connection to a PC.
Reusable biochip
Fluidigm Corporation of Villebon sur Yvette, France, has launched its reusable FR48.48 dynamic array integrated fluidic circuit - the first reusable biochip for the single nucleotide polymorphism genotyping market, it says.
Each chip can be used up to five times and can produce results for 48 samples across 48 assays for a total of up to 11,520 genotypes over the five uses. The reusable chip provides 99 per cent or greater call rates and 99.75 per cent or higher efficiency.
Benchtop NMR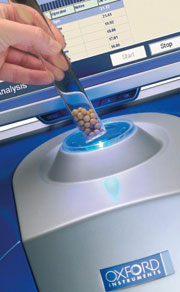 The MQC range boasts a small footprint, a space-saving internal computer with operator interface and a 17-inch LCD flat screen monitor, according to the company. In addition, the small permanent magnet has a large sample space, a high field strength for maximum sensitivity and operating frequencies across the 2-23MHz range.
Interchangeable probes permit different sample sizes, including a liquid variable temperature probe that allows operators to run experiments at higher and lower temperatures. The bottom of the probe is equipped with a plug that keeps the magnet clean in the event of spills or broken sample tubes.
The MQC is ideal for determining the oil content of seeds, food, wax and rubber, the company says, as well as in the energy, textile, construction and personal care industries.
Related Links
Asynt
Asynt specialises in providing innovative technologies for the chemical synthesis sector
AB Sciex
AB Sciex is a global leader in life science analytical technologies
Carl Zeiss
Auriga 60 CrossBeam workstation
Ocean Optics
Ocean Optics has launched the SteadiQ accessory
Shimadzu Scientific Instruments
Solutions for Science
Waters Corporation
Ostro sample preparation plate
Thermo Scientific
FT-IR spectrometers and accessories and IR microscopes
Stuart Equipment
SMP20 digital melting point apparatus
Porvair Sciences
Porvair Sciences, specialists in the manufacture of microplate products
Biochrom
Libra S80 stand alone UV-vis spectrophotometer
Fluidigm Corporation
Fluidigm develops and distributes systems based on integrated fluidic circuits (IFCs)
Oxford Instruments
Benchtop NMR
External links will open in a new browser window