News in Brief
Skin deep glowing glucose tracker
The glowing microbeads can be seen through the skin of the mouse ear
© PROCEEDINGS OF THE NATIONAL ACADEMY OF SCIENCES USA
Glowing ears instead of painful finger prick tests could soon be used to monitor diabetic patients' blood sugar levels. Japanese researchers have developed long-lasting, biocompatible microscale beads that fluoresce in response to glucose and have injected them into the ears of mice.
Reporting in Proceedings of the National Academy of Science, USA (DOI: 10.1073/pnas.1006911107), the researchers show that the fluorescence of the beads is strong enough to be seen through the skin, something that has previously prevented fluorescence monitoring from being used.
To generate their fluorescent dye, the researchers created a novel molecule from diboronic acid and anthracene. The molecule selectively and reversibly binds to glucose and fluoresces without the need for any reagents or enzymes. The dye was incorporated into hydrogel beads and then injected into mouse ears. Altering the animals' blood sugar level then led to a corresponding increase or decrease in fluorescence.
The beads now need to be developed further to turn them into practical devices that, in the future, can be approved by regulators.
Rising tide of data
A report by the European Commission's Directorate-General for Information Society and Media highlights the benefits and costs associated with accelerating the development of a fully functional electronic infrastructure to promote the sharing of scientific data.
An unstructured piecemeal system is already in use, but the Directorate-General's vision is that by 2030 an easy access e-infrastructure should be available to researchers and practitioners from any discipline so they can find, access and process the data they need, as well as securely deposit their data with confidence.
The report also states the e-infrastructure will aid government policy makers with decisions based on solid evidence, increase confidence to invest in research and adequately educate all who access the data due to the abundance of information.
Non-stick chewing gum hits market
A new chewing gum that's simple to remove and degrades more easily than traditional gum while retaining the familiar minty taste and consistency has hit the US market.
In 2007, a team at the University of Bristol, UK, and spin-out company Revolymer announced they had created a water dispersible gum which could be removed easily from most surfaces. Now it is a commercial product that can rival the taste and consistency of stickier leading brands.
Traditional chewing gums contain poly(styrene-co-butadiene) or poly(ethylene-co-vinylacetate). However, the properties of these materials mean that they stick to surfaces and are tricky to remove. The new gum, called Rev7, overcomes this because it also contains a new amphiphilic comb copolymer made up of a polyisoprene backbone and grafts of poly(ethylene oxide) (PEO).
Self-pumping membrane
US researchers have imitated the transport functions of biological membranes by incorporating tiny pumps into synthetic membranes. They say their 'self-pumping' mimics could be used in compartment-less fuel cells.
In nature, the membranes that hold cells together contain channel proteins responsible for letting ions in and out. Some specialist channel proteins use adenosine triphosphate (ATP) - the main source of chemical energy in cells - to drive ions against the concentration gradient.
Research published in Advanced Materials (DOI: 10.1002/adma.201001694) reports a polycarbonate membrane with a built-in pump action that's driven, like in nature, by chemical energy. However, their synthetic version gets its energy not from ATP but from hydrogen peroxide.
Now work is underway to get the membranes to run on glucose, which would make them biologically compatible.
Industry tops charts
Science graduates favour research jobs in industry over those in publicly funded laboratories, according to a graduate survey in The Guardian published on 27 September.
Based on 17 000 students questioned by UK university careers services, the UK 300 survey shows where graduates most want to work. When sorted by sector, it highlights a change in attitude of students since last year. Government research organisations do not seem to be such attractive employers this year, with the Science and Technology Facilities Council falling from the top spot to fifth and the Government Operational Research Service falling from third to seventh.
Pharmaceutical company, GlaxoSmithKline has now risen to the top as the number one choice for science graduates, with L'Oreal and Johnson & Johnson filling second and third place, respectively.
'Nano' state of play
A new report examining the state of play in the field of nanotechnology calls for a greater focus on commercialisation and job creation, and highlights that investment in R&D is paying off, as regulators begin to approve nano-based products.
Findings from the draft report by the World Technology Evaluation Center were released at a meeting at the National Science Foundation in Virginia, US, on 30 September.
Nanotechnology is one of the largest and most competitive research fields globally, with the market for nanotechnology-based products exceeding $250 billion (£157 billion), according to the report. Going forward, the authors call for greater emphasis on 'innovation and commercialisation, on job creation, and on societal "returns on investment," with measures to ensure safety and public participation.'
Salmonella's secret weapon
US researchers have explained the chemical trick behind the Salmonella bacteria's ability to outgrow other microbes living in the gut. The findings could lead to new drug treatments for the bacterial infection.
Salmonella is a pathogen which causes severe inflammation and diarrhoea. Researchers have previously been unable to explain why the bacteria experience a population surge in the gut, but now a team from the University of California, Davis, reporting in Nature (DOI: 10.1038/nature09415), believes it has the answer.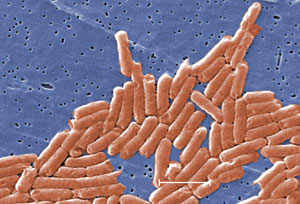 Salmonella bacteria experience a population surge in the gut
© CDC
Using high performance liquid chromatography and mass spectrometry the team showed the presence of tetrathionate (S4O62-) in the intestines of animals infected with Salmonella. Tetrathionate encourages growth, as Salmonella is able to use it as an electron acceptor for respiration.
When Salmonella infects the body, it causes inflammation and triggers the release of neutrophils - cells which destroy bacteria by releasing oxygen radicals. The team's research also shows these radicals oxidise thiosulfate to tetrathionate, suggesting that in the absence of natural sources of tetrathionate, Salmonella makes its own.
New IR technique
A sensitive new infrared (IR) spectroscopy method analyses molecular ions by capturing them in nanosized bubbles of freezing helium. By slowing molecular vibration and rotation in this way, the technique can give useful structural information on important biomolecular ions.
In IR spectroscopy infrared light passes through a sample, which absorbs the energy. This energy vibrates chemical bonds at characteristic frequencies and these signals are recorded by the spectrometer. However, at room temperature absorptions of light at many different wavelengths can be observed, making it difficult to get detailed information.
Reporting in the Journal of the American Chemical Society (DOI: 10.1012/ja1034655) the team from the Swiss Federal Institute of Technology, show the new technique results in simplified cleaner spectra containing useful structural information.
Piggy-backing on red blood cells
Increasing the lifetime and circulation of protein drugs in the body can be achieved by binding them to red blood cells using an amino acid peptide, say Swiss scientists.
The failure of many novel protein drugs to reach clinical use is because they do not last long enough in the body or travel far enough to be of benefit to the patient. Current methods include binding proteins to water-soluble polymers or serum proteins, but now a team at the Federal Polytechnic School of Lausanne, use a 12 amino acid peptide (ERY1) to bind a model protein to red blood cells in vivo and show the protein can survive up to six times longer in the body compared to the wild-type protein.
The research is published in Molecular Pharmaceutics (DOI: 10.1021/mp1001697).
Also of interest

04 October 2010
Researchers develop wireless, fluorescent microbeads to sit under the skin and monitor blood glucose levels
07 October 2010
Chemists tweak traditional chewing gum formulation to create a new gum that is simple to remove and degrades easily

21 September 2010
Synthetic, self-pumping membranes could be use to generate energy in compartment-less fuel cells

06 October 2010
Nanotechnology report calls for additional emphasis on investment and commercialisation

22 September 2010
US researchers have explained the chemical trick behind Salmonella bacteria's ability to outgrow other microbes living in the gut
28 September 2010
New infrared spectroscopy technique uses freezing helium to provide detailed structural information of molecular ions