Market Place
Purifying peptides
Biotage of Charlotte, US, has launched a range of high performance liquid chromatography (HPLC) columns optimised for protein purification from short to large chain peptides.
The Resolux range is available in three versions for different surface chemistries, covering hydrophobic to hydrophilic peptides. The products include analytical, semi-prep and preparative HPLC columns, from 2.1mm to 30mm in diameter, for predictable scale-up from the microgram to the multigram scale.
Surface area
XiGo Nanotools of Bethlehem, PA, US, has launched the Acorn Area, a portable particle-surface-area analyser.
Suspensions and emulsions can be measured non-invasively, without any sample preparation. The operator simply places 1ml of the dispersion in a glass vial and inserts it into the sample chamber.
Liquid in contact with the surface of a particle behaves differently from that of the bulk - or 'free' - liquid, and this effect can be detected through nuclear magnetic resonance relaxation and diffusion measurements, the company says. The AreaQuant software differentiates that behavior and calculates the surface area from the measurements; the result is obtained in about 5 minutes.
The Acorn Area can be used in a wide variety of applications in, for example, the pharmaceuticals, cosmetics, food and ceramics indstustries.
Sample preparation workbench
Agilent Technologies of Santa Clara, US, has introduced the 7696 Sample Prep Workbench for automated preparation of analytical samples for liquid chromatography and gas chromatography techniques used in a wide range of industries, including pharmaceuticals, petrochemical, food safety, forensics and environmental analysis.
The 7696 Sample Prep Workbench offers customers increased productivity through automation and easy-to-use software and hardware. It consumes smaller amounts of chemicals and solvents, produces less waste, does not require glassware other than sample vials and reduces laboratory workers' exposure to chemicals.
Near-infrared
Ocean Optics of Dunedin, US, has introduced a high performance small footprint near-infrared spectometer with a 900-2200nm response range.
The NIRQuest512-2.2 is for applications that range from moisture detection and chemical analysis to high-resolution-laser and optical fibre characterisation.
The spectrometer uses a high-stability 512-element Hamamatsu indium-gallium-arsenide-array detector in a compact optical bench with a two-stage thermoelectric cooler and low-noise electronics. Depending on the configuration - a six grating options with five sizes of optical bench entrance slits are available - optical resolution of 0.5nm-5.0nm is possible. Higher-resolution setups are especially useful for characterising lasers.
External hardware triggering functions allow users to capture data when an external event occurs or to trigger an event after data acquisition. This capability can be useful for capturing data from automated processes or from devices such as solar simulators that flash synchronously.
Flow cytometer
Merck Millipore of Darmstadt, Germany, has introduced a new family of Guava EasyCyte benchtop flow cytometers with a small footprint and low maintenance. These instruments offer up to eight-parameter detection in a single-sampler format.
Four Guava EasyCyte single-sampler models are available: two single-laser units capable of detecting five to six parameters and two dual-laser systems that can detect six to eight parameters. Dual-laser systems allow researchers greater flexibility when choosing different fluorescent dyes with well-separated emission spectra.
Visible spectroscopy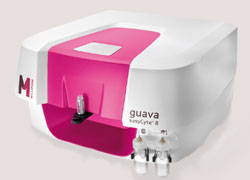 ThermoFisher Scientific of Austin, US, has launched the Spectronic 200, a new visible spectrophotometer.
The unit delivers fast full-wavelength scan data, without the need to connect to an external computer, and multi-standard quantitative analysis for academic, waste-water, chemical and food and drink laboratories.
The Spectronic has a small footprint, requires little maintenance and is simple to set up and use, the company says.
SEM
Jeol of Tokyo, Japan, has introduced the JSM-7001FTTLS LV scanning electron microscope, which benefits from optics that enable ultrahigh resolution imaging at low kV and high spatial resolution microanalysis.
The Through-the-Lens System (TTLS) combines new objective lens and detector technologies with the Jeol in-lens field emission gun and is designed for imaging of a variety of samples, including magnetic materials.
The JSM-7001FTTLS LV also features low vacuum operation and a large specimen exchange airlock.
In-lens detectors with energy filtering provide both topography (SE) and Z contrast (BSE) images. Short working distance, low currents, and low kV sensitivity ensure high resolution BSE images. Gentle Beam technology reduces charging and improves resolution, signal-to-noise, and beam brightness, especially at low beam voltages (down to 100V).
Related Links
Biotage
Isolute SLE
Xigo Nanotools
A new approach to particle surface area measurements
Agilent Technology
Sample preparation workbench
Ocean Optics
Near-infrared
Thermo Fisher Scientific
The world leader in serving science
Merck
Flow cytometer
Jeol
A diversified high-technology compay with a broad product portfolio
External links will open in a new browser window