News in Brief
Colourful barcodes cause a stir
An innovative way to label molecules using colourful barcodes has been developed by South Korean researchers.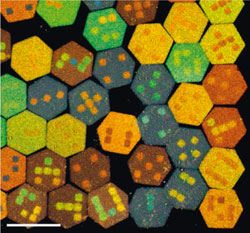 Microparticles with different shapes and multicoloured spots
© NATURE MATERIALS
The barcode particles, which resemble microscopic dice, have a pattern of coloured spots that gives them a unique spectral fingerprint. In addition, they can spin around and function as miniaturised stirrer bars to speed up reactions.
The spots are made of 'magnetic ink': a mixture of ultraviolet (UV)-sensitive polymer and magnetic nanocrystal clusters. The clusters reflect specific wavelengths of light depending on an applied magnetic field - so as the magnetic field varies, the ink changes colour. UV light is then used to 'fix' the colour.
Compared with currently used fluorescent labelling methods, as well as integrating stirring, the new system greatly increases the number of unique labels that can be used at once from around a thousand combinations up to well over a billion.
Reporting in Nature Materials (DOI: 10.1038/nmat2815), the team led by Sunghoon Kwon at Seoul National University, suggests that the labelling technique could be particularly helpful in identifying 'hits' during high-throughput screening for drug discovery,for sequencing DNA and in anticounterfeiting technology.
US scientific integrity policy woes
After indications in March that political interference with science would end, and that sound science would be at the centre of US policy-making, the first draft of a governmental scientific integrity policy has come under heavy criticism from a US watchdog, the Union of Concerned Scientists (UCS).
The draft policy aims to protect the public from inaccurate information, but under criticism is the section suggesting that in order to aid decision-making, documents can be edited for clarification and that senior political officials in the agency bear no liability if they alter such documents.
The UCS believes the draft is far from comprehensive and would have done little to prevent the abuses of science that contributed to the recent BP Deepwater Horizon disaster, in the Gulf of Mexico.
Regenerating photovoltaic technology
Molecules that turn sunlight into electricity can be rapidly and repeatedly broken down and reassembled, says a team from the Massachusetts Institute of Technology, US.
In plants, the reactive form of oxygen produced by sunlight causes proteins in the leaf to fail. To overcome this, plants constantly breakdown and reassemble their light-capturing molecules from scratch, so the structures are always brand new.
The team's nature-mimicking system reported in Nature Chemistry (DOI: 10.1038/nchem.822), includes components such as electrical conducting carbon nanotubes and proteins that convert sunlight energy into an electrical current. On addition of a surfactant, the components separate and after removing the surfactant the components reassemble themselves into a rejuvenated light harvesting structure to start the process again.
Making cruise emissions count
A new study that models aircraft emissions urges policymakers to consider emissions from cruising aeroplanes in air quality regulations - which currently focus on take-off and landing only.
The researchers, based at the Massachusetts Institute of Technology in the US, show that 80 per cent of the total health impact of aircraft emissions is related to the cruise phase, equating to around 8000 early deaths a year.
Reporting in Environmental Science & Technology (DOI: 10.1021/est101325r), the team show the main culprits are particles measuring less than 2.5 m m in diameter - including black and organic carbon, and aerosols formed through the reactions of nitric acid and sulfuric acid.
The largest burden was found to fall on Asia, despite contributing relatively little to global air traffic.
IPCC shake-up recommended
The Intergovernmental Panel on Climate Change (IPCC) management structure should be overhauled, and the way complex climate assessments are handled shaken up, according to an independent review.
Assessment reports on climate change have gained IPCC much respect, but as the public debate about the science of climate change escalates, the IPCC has come under scrutiny, and controversies over impartiality and accuracy of reports have grown.
Establishing an executive committee to act on the panel's behalf and changing the review of climate data by providing specific guidelines for unpublished and non-peer-reviewed sources of information were among the recommendations from the Interacademy Council (IAC) - an Amsterdam-based organisation that gives advice to international bodies on behalf of the world's science academies.
Research integrity body for the UK
An independent body to provide guidance and advice on scientific research integrity should be set up in the UK, according to a report by the Research Integrity Futures Working Group. (A group established by Research Councils UK in 2009 in response to increased awareness of research integrity.)
According to the report, the national body should provide guidance and advice on issues such as poor practice and misconduct on behalf of all major research employers, with support from research funders.
The group says the body is needed to streamline research integrity to sustain a high quality research environment in the UK, and without it public and national confidence in science could suffer.
Isotope effect occurred in reactions within the nanopore
UK researchers have observed the isotope effect in a single molecule trapped within a membrane-based nanopore. The isotope effect - the rate of a reaction is altered depending on the presence of a given isotopic atom in the reactant - is a key tool for elucidating reaction mechanisms, and the new finding could open up powerful new ways to study chemical reactions.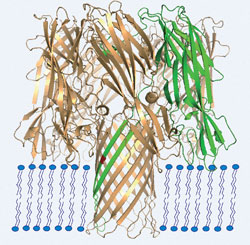 Isotope effect occurred in reactions within the nanopore
© NATURE CHEMISTRY
A nanopore with a thiol group protruding into the space within the pore is designed so ions can flow through the pore creating measureable ionic currents. When a quinone molecule is introduced, it reacts with the thiol to form an intermediate, then a product, giving two distinct ion current signals. Repeating the experiment with a deuterium atom in the place of a key hydrogen on the quinone ring, shows conversion of the product occurs slower because the reaction requires the breaking of the C-H (or C-D) bond. The research is reported in Nature Chemistry (DOI: 10.1038/nchem.821).
Adding radioactive fluorine easily
Making compounds that contain the useful radioisotope fluorine-18 (18F) could be much easier in future, say researchers from the UK and Finland. The team integrated the isotope into a popular electrophilic fluorinating agent called Selectfluor, opening up a wide range of chemistry to build useful radiolabelled molecules.
18F has a half-life of around 2 hours and releases positrons as it decays, making it perfect as a radiotracer in positron emission tomography (PET), a type of medical imaging for disease diagnosis and monitoring a patient's response to therapy.
Until now, the only way to add radioactive fluorine electrophilically to a molecule was to use fluorine gas containing two atoms of 18F - which is both hard to make and handle. This work is published in Angewandte Chemie International Edition (DOI: 10.1002/anie.201002310).
Speeding up TB diagnosis
Two new tests to rapidly and accurately diagnose tuberculosis (TB) could help control the spread of the deadly lung disease.
The tests, developed independently, are both based on single DNA molecule identification using real-time polymerase chain reaction (PCR) - a technique that generates millions of copies of DNA (in this case TB bacterium DNA) amplifying the signal.
At present, control of TB is hampered by the slow diagnostic method involving growing a bacteria culture from a lung mucus sample, a process that can take up to 8 weeks.
One test (Xpert MTB/RIF) reported in the New England Journal of Medicine (DOI: 10.1056/NEJMoa0907847), takes 90 minutes and is up to 98 per cent accurate. Whereas the second test, developed by scientists at the UK's Health Protection Agency, is said to spot all strains of the disease in only 1 hour.
Also of interest

23 August 2010
New microparticles label molecules with colourful barcodes and boost reaction time

07 September 2010
It's not all about take-off and landing emissions when it comes to health impacts, according to new research

24 August 2010
Radioisotope fluorine-18 built into popular fluorinating agent opens up chemistry

12 September 2010
Membrane-based nanoreactor can measure reaction rates at the level of single molecules and the effect of isotopic atoms