The Educated Chemist: The business of chemistry
Chemistry degrees that include management training are hard work, but could save you time in the long run, says Sarah Houlton
Many chemistry graduates end up in management jobs, but by the time they reach their 30s become students again after discovering that an MBA (masters in business administration) will benefit their career. It is possible to get a head-start, though, with management training at the same time as a chemistry degree.
Imperial College London, UK, has been offering a course that combines chemistry and management for more than a quarter of a century, and there are several options in the US where a chemistry BS is awarded alongside an MBA degree.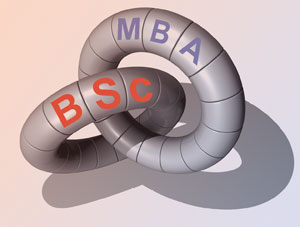 At Russell Sage College in Troy, New York, US, the faculty members of the chemistry and biochemistry department put together an accelerated chemistry-MBA option. 'This was based on advice we received from the dean of our school of management,' explains department chair Frank Vozzo. 'Candidates for management positions in industry, particularly the physical sciences and engineering, are offered higher salaries if they obtain their MBA after completing a degree in science or maths. An accelerated degree option is a lure because it can save up to a full year of graduate school tuition.'
Not for the squeamish
Like Russell Sage, Penn State University offers an accelerated course that leads to both chemistry and MBA degrees in 5 years, rather than the usual six, as Stacey Dorang, assistant MBA admissions director at Penn State's Smeal College of Business, explains. 'Students apply to both the Eberly College of Science for chemistry and Smeal at the same time,' she says. 'The course combines the fourth year of the chemistry degree with the first year of the MBA, so it's not for the squeamish who are afraid of working hard! But it allows students to enter the workforce earlier, and we find it's especially appealing for those who want to work in the pharmaceutical industry.'
Typically, between six and eight students are admitted to the joint programme each year, and they then make a formal application for admission to the business school after the third year of the chemistry course. Although they are concentrating on the chemistry in those first 3 years, they are involved in business school activities and internships, she says. 'They get involved with the MBA mentoring programme which helps them get ready for the MBA experience, and there are several formal events each semester that all MBA students are invited to, from first year undergraduate to second year MBA. This is something that someone who did a traditional 4-year chemistry programme then applied for an MBA would not have access to.'
This will also help students recognise whether the course really is for them. If they decide that they want to stick with chemistry - or have applied just for chemistry and realise they're interested in the MBA option - then it's possible to change course part-way through.
A job in the City
The course at Imperial doesn't involve a formal MBA degree, but the chemistry with management course offers students the opportunity to gain some management training. 'You can do 2 years of chemistry followed by a year of management, and there's a 4 year version that involves exactly the same chemistry course as the BSc degree, followed by a year in the business school,' says the department's director of undergraduate studies Alan Spivey. It's also possible to make it a 5-year course, spending a year in industry before the year in the business school. This could be a placement in a chemical company of some form, or even with an investment bank in the City working on market analysis in a chemistry-related sector such as pharmaceuticals.
'Incoming numbers are pretty stable at about 10-15 per cent of the intake every year,' Spivey says. Others transfer to it after a couple of years of chemistry. 'Those who apply for the course are typically wanting to study chemistry for its training in mathematical skills, reasoning and logic, but their plan from the outset is to go into business, and they are often already lined up to go into a chemistry-related family business.'
Smeal's Dorang says many of their graduates go into pharmaceuticals, but that's far from the only career path. 'We have some entrepreneurs that end up with start-ups, and we have some that go into the lab,' she says. 'But pharma is certainly popular, and it can help open doors a little sooner in their career than might otherwise have been possible.'
Sarah Houlton is a freelance writer based in London, UK
Related Links
Imperial College London
Chemistry with management
Russell Sage College US
Chemistry-MBA accelerated degree programme
Penn State University US
Smeal College of Business, joint degrees with MBA
University of Tampa US
Chemistry MBA joint degrees
Montclair University US
MS in chemistry/MBA
California State University Channel Islands US
MS biotechnology/MBA dual degree programme
External links will open in a new browser window