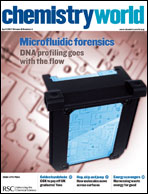 News and analysis
Research
Features
Modern devices waste a lot of energy as heat, noise and vibration. James Mitchell Crow investigates a new breed of energy scavenging materials that could recapture some of it
2009 marked the first year that more genetically modified animals were used in UK scientific procedures than animals deemed 'genetically normal'. Katrina Megget investigates
Robert Boyle's The sceptical chymist still holds lessons for the modern chemist - 350 years after its publication, as Mike Sutton discovers
Microfluidic technology is finally ready for forensic DNA profiling labs, as Rajendrani Mukhopadhyay reports
Opinion
The essential role that scientific advice has to play worldwide was brought sharply into focus
Medicinal chemistry's quest for potent drug candidates has resulted in molecules that are too large and too lipophilic for their own good
'Natural products are back!' is a headline Derek Lowe has seen several times before
Experiments are seldom replicated by different research teams, says Philip Ball. Why is this and does it really matter?
Chemistry World Jobs
Chemists are perfectly suited to jobs in Regulatory Affairs but they need to have evidence of excellent soft skills to walk straight into a job, as Emma Davies finds out
James Liao was one of the first to mix biology and engineering and he continues to break new ground in his quest for cleaner, greener biofuels, as Yfke Hager finds out
Investing in universities doesn't just provide us with great universities, reports Bea Perks.
Functional CVs bring out your skills and are perfect for those looking for a career change, says Charlotte Ashley-Roberts
Regulars
Martin Luther Kings great 1963 speech calling for racial equality and an end to discrimination
Some liquids are immiscible with others
25 years ago in Chemistry in Britain