Market Place
Featured Product
New for 2011/2012
The new 132 page 2011/12 catalogue from Peter Huber Kältemaschinenbau details the complete range of innovative temperature control solutions. With a temperature range from -120 to +425 °C, Huber systems are suitable for a range of applications in research, laboratory and production.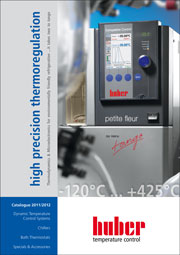 The catalogue gives details of the Unistat range of highly responsive temperature control systems, chillers and thermostats as well as information on numerous innovations, including: the improved MPC low cost thermostats, the new heat transfer stations; an economic alternative to standard chillers and the Unistat Hybrid System for temperature control of very large production reactors.
Call to request your copy or download the PDF, Tel: +49 781 9603 123, email: info@huber-online.com
Absorption spectroscopy
PerkinElmer has launched a new series of atomic absorption spectrometers called PinAAcle. Atomic absorption spectroscopy is widely used for determining the elements in a sample. The company says the devices are compact and make use of an innovative optical system based on fibre optics.
Electrospray
Bruker has a new electrospray ionisation system called CaptiveSpray for use on mass spectrometry (MS) samples derived from high pressure liquid chromatography (HPLC). Electrospray ionisation is a 'soft' ionisation technique typically used for samples comprising bulky biological molecules such as proteins.
The CaptiveSpray system is a nano-electrospray system designed to produce particularly fine aerosols by drawing sample very slowly through the spray tip. Traditionally, the spray tip is produced by pulling a glass capillary, but according to Bruker this results in an inconsistent diameter and tip clogging. The CaptiveSpray system reduces clogging by using 'Etch-Taper technology'. In addition, the CaptiveSpray system incorporates new gas flow focusing technology, which increases sensitivity, and is designed to operate with flow rates from 50nl/min to over 5

l/min.
TOF MS
Bruker has brought to market a new quadrupole time-of-flight (TOF) mass spectrometer, the MaXis Impact, an extension of the existing MaXis range. The device is designed for 'precise mass screening', which the company says is important in forensic, drug doping and food safety applications. The unit boasts 'full spectrum' resolution of 40,000 and mass accuracy of 1ppm, and collects data at a rate of up to 50 full spectra per second.
Mass spectrometry
Waters has launched the Synapt G2-S, a 'high definition' mass spectrometer. According to the company, compared with 'previous generation' mass spectrometers, the device provides 30 times higher signal intensity and five times higher signal-to-noise ratio. To achieve this, it employs an 'off axis' design to increase the efficiency of ion transfer from the ion source to the analyser and at the same time eliminate contaminants, making it suited to identifying metabolites as part of the drug development process. The resolution of the device is over 40,000 FWHM (full width half maximum).
HPLC columns
Thermo Fisher has launched a range of solid core HPLC columns under the name Accucore. The solid core particles are 2.6

m in diameter, have an average particle size distribution of 1.12 and are available in a wide range of stationary phase selectivity. Furthermore, Thermo says that the columns are 'compatible with almost any instrument'.
Flu detection
Life Technologies is now offering a polymerase chain reaction test for swine influenza virus (SIV) - the first such commercially available test, it says, approved by the US Department of Agriculture. SIV produces fever, lethargy, difficulty breathing and weight loss in pigs, making it a financial risk for pig farmers. The Applied Biosystems VetMax-Gold SIV detection kit targets multiple regions of the genome to decrease the likelihood of false negatives. It is for animals use.
Solid phase extraction
PerkinElmer has launched the Supra-Clean and Supra-Poly range of solid phase extraction (SPE) products for sample preparation in HPLC. Supra-Clean products are silica based whereas Supra-Poly products are polymer based. Both are designed to help operators fill columns evenly and consistently. The company says the systems are suited to identification and analysis of environmental contaminants and extraction of pesticides, residual drug compounds and mycotoxins from food samples.
iPad HPLC app
Waters has developed an iPad app to help users select HPLC sample plates, vials and filters. The product is designed to extend their use of mobile devices into the laboratory. For plate selection, for example, you input basic information on sample volume and quantity, and the app identifies the best plates for your application.
Gene imaging
Syngene has brought to market GeneGnome5, a chemiluminescent imaging system designed for western blots. The system comprises a high resolution, cooled camera inside a light-proof cabinet that is fully integrated with a processor and flat screen monitor. It has a fixed aperture lens that removes the time usually spent adjusting the camera and captures the image with just one click.
Precise pipetting
Anachem has launched a starter kit for its Pipet-Lite XLS single channel pipette. The company says the pipette is 'one of the most comfortable and accurate' available, thanks to an ergonomic design and low spring forces. The kit comprises three pipettes plus accessories.
Related Links
Huber
New 132 page 2011/12 catalogue
Perkin Elmer
At PerkinElmer, we design, manufacture and deliver advanced technology solutions that address the world's most critical health and safety concerns
Bruker
Bruker is a leading provider of high-performance scientific instruments and solutions for molecular and materials research
Waters
Waters has developed innovative analytical science solutions to support customer discoveries, operations, performance, and regulatory compliance
Thermo Fisher
Thermo Fisher has launched a range of solid core HPLC columns under the name Accucore
Life Technologies
Flu detection
Syngene
Syngene has brought to market GeneGnome5
Anachem
Anachem has launched a starter kit for its Pipet-Lite XLS
External links will open in a new browser window