The Educated Chemist: Top of the class
Emma Davies learns how Teach First turns exceptional graduates into exceptional teachers
Have you ever thought about becoming a science teacher? If so, do you have the necessary strong leadership skills? Research by Teach First, a UK charity that recruits top graduates to train as teachers in challenging schools, has shown that chemists tend to fall behind arts and humanities students when it comes to leadership and 'self-evaluation'.
Teach First is working hard to help chemists to equip themselves with these skills in a bid to increase the numbers that apply successfully to join its leadership development programme. This academic year, the organisation aims to recruit 50 per cent more science graduates than last year, with a goal of science, technology, engineering, and mathematics (STEM) graduates making up 45 per cent of the total intake. 'We are passionate about increasing the number of STEM students - and chemists in particular - that come on our programme,' says James Darley, director of graduate recruitment.
Teach First participants certainly need to have strength of character. The charity is working to break the link between low family income and poor educational attainment; all of its partner schools are in deprived areas or have high levels of underachievement. So Teach First uses a rigorous assessment process to select 'exceptional' graduates onto its two-year leadership development programme, looking in particular for eight 'core competencies'. These include leadership, self-evaluation, problem-solving (chemists are particularly good at this, according to Teach First), resilience, and 'humility, respect and empathy'.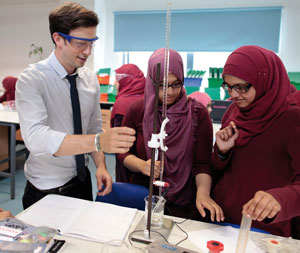 Chemistry graduates are in high demand
© TEACH FIRST
Successful applicants complete six weeks of training before spending at least two years teaching and training in a partner school. After this, participants are classed as 'ambassadors' and are encouraged to remain involved with the charity.
Why not?
Although Teach First is popular with arts and humanities students, it attracts far fewer STEM graduates, says Darley. When Teach First asked chemists what the barriers to becoming a teacher were, they expressed 'concerns around losing their technical skills, and concerns about getting enough personal satisfaction and a good enough salary,' he explains.
Salary should not be an issue, counters Darley. 'After two years, over half of our participants are in a leadership position as head of year or head of department. At that stage the salary is more comparable with that of a management consultant or an accountant.' Most Teach First participants find the teaching experience gives much personal satisfaction and 60 per cent have stayed in education.
The partner schools and their students are also seeing positive results. Research published in 2010 by the University of Manchester, UK , found a statistically significant improvement in GCSE results of Teach First partner schools one to two years after the partnership began.
Emma Jackson, a biochemistry graduate from Nottingham University, UK, joined Teach First in 2006, working and training as a science teacher at Hurlingham and Chelsea Secondary School, London. She is now head of chemistry at Coombe Girls' school in Surrey, UK. Her first school was indeed 'very challenging' she recalls. 'There had been a high staff turnover and students didn't really value their science lessons.' Yet Jackson had an extremely positive experience.
For the past three years, she has been an associate tutor at the Teach First Summer Institute, which prepares new starters for the classroom experiences to follow. Participants always ask: 'What was the worst thing that happened in your classroom?' she laughs. Instead of focusing on the stressful bits, Jackson tells them about 'the lovely things'. These include the year nine Sats results during her second Teach First year. 'There were only two level sevens (above average) in the whole year and they were in my class. It's really nice to be able to say that I prepared them really well,' she says. She really enjoys her summer work with Teach First. 'I love the enthusiasm. With their fresh eyes on teaching, the participants come up with ideas that I would never have thought of.'
After Jackson graduated from Nottingham, she worked at a US summer camp before spending a year on a solo trip to Australia. She thinks these experiences may have helped to secure her Teach First place. Darley is also confident that extra-curricular activities can help to boost the key skills needed to take on a challenging teaching career. 'It's about having passion and interests outside of your work,' he says.
Emma Davies is a freelance science writer based in Bishop's Stortford, UK
Related Links
Teach First
Teach First
External links will open in a new browser window