Market Place
Featured Product
Improving the productivity of your chemistry.
Radleys has announced publication of Volume 6 of its International Product Guide - 'Improving the productivity of your chemistry.'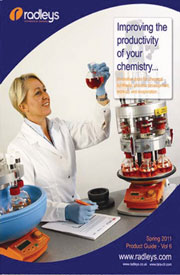 Radleys is the market leader for affordable personal chemistry tools, offering an unrivalled range of productive, high performance, chemical synthesis, work-up, evaporation and process development systems. With over 10,000 systems installed worldwide, Radleys has a proven track record of enhancing the productivity of chemists from industry to academia. The true innovation of Radleys products is their simplicity, which not only makes them easy to use - but also reduces maintenance and repairs to virtually zero ensuring a long and productive life.
To receive a free copy of the new International Product Guide email Radleys or visit the website.
Featured Product
Huber China exhibit new heat transfer station at CPHI Shanghai
Huber China, partner of Huber Kaeltemaschinenbau Germany, offers heating and cooling thermostats within the temperature range of -120 to 425°C. Known for their highly accurate, responsive temperature control, Huber systems offer cooling powers from 450W at 0°C up to 24kW at -60°C and 2kW at -100°C for trans-industry applications.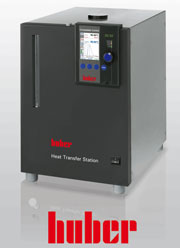 This year at CPHI Shanghai, visitors to stand E1F06 can see a range of products including the new heat transfer station (HTS), ideal for applications where a cooling water supply is required with stable pressure and flow and precise working temperature.
For more information about the Huber range, please visit the website or email Chen Shufeng
Featured Product
Flow chemistry to -88°C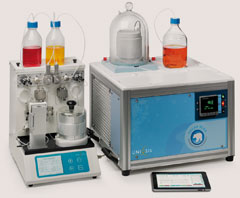 The new FlowSyn Polar Bear from Uniqsis and Cambridge Reactor Design uses advanced cooling technology to provide clean and simple pre-cooling and temperature-controlled mixing of reagents in flow chemistry experiments.
Choose from FlowSyn standard, high-throughput, multi-experiment and automated combinatorial flow reactor models

Rapidly cool reactions down to -88°C without solid CO2, solvents or heat transfer fluids

Select from the FlowSyn range of coil reactors, mixer chips and material flow paths to suit your application
Contact Uniqsis or Cambridge Reactor Design for more info.
LC MS-MS
Shimadzu has launched the LCMS-8030, a liquid chromatography mass spectrometry system with 'exceptionally fast electronics and robust design'. According to the company, the tandem quadrupole mass analyser can process samples at up to 15,000 scans per second, with no loss of resolution, sensitivity or mass range. It incorporates 'UFsweeper' technology, which improves relative standard deviation (RSD) by a factor of two compared with conventional equivalents.
Analyse with x-ray fluorescence
Panalytical has brought to market a range of energy dispersive x-ray fluorescence (EDXRF) spectrometers called Epsilon 3. The devices incorporate a 'high-performance' ceramic tube and modern silicon drift detector technology to analyse across the full range of elements, from fluorine to uranium. According to the company, they represent 'cost-effective instruments with outstanding analytical performance'. This makes them suitable for routine analysis in: cement production, mining, mineral beneficiation, petroleum refining and the polymer industry activities. The Epsilon 3 devices can be used with: solid, pressed or loose powder samples; liquid; or filter samples.
Spin drying
Modular SFC has developed the Centrifan PE evaporator for drying lab-scale solutions and mixtures. The device incorporates a simple centrifugal system that requires no programming beyond setting the temperature - the operator just loads the samples and closes the lid. A captured volume of gas is continually circulated generating an internal gas flow and facilitating evaporation without any pumps, eliminating risk of sample bumping or foaming.
Autosampling
Metrohm has launched the 889 IC Sample Center autosampler, designed for high sample throughput. A double needle system allows the use of vials with caps or septa. The device also incorporates a polyether ether ketone (peek) injector. According to the company, the 889 IC Sample Center is ideally suited to use with small samples.
UV-Vis
Implen has brought to market the NanoPhotometer Pearl UV-Vis spectrophotometer, which the company says is a 'maintenance free' device. It works with sample volumes as low as 0.3ul and has a detection range, for double stranded DNA, of between 2 and 19 000ng/ul. Measurements take 3.5 seconds. By varying the distance the light travels, the dilution lids provide automatic dilutions of: 5x, 10x, 50x, 100x or 250x.
Measuring CDOM
Horiba has developed Aqualog, a device for measuring coloured dissolved organic matter. It is the only instrument to simultaneously capture absorbance spectra and fluorescence excitation-emission matrices (EEMs), the company says. In addition, EEMs are captured up to a 100 times faster compared with conventional equivalents. The system incorporates a thermoelectrically cooled charge coupled device fluorescence emission detector.
Related Links
Radleys
Improving the productivity of your chemistry
Cambridge Reactor Design
FlowSyn Polar Bear
Uniqsis
FlowSyn
Huber
Exhibit new heat transfer station at CPHI Shanghai
Shimadzu
Shimadzu has launched the LCMS-8030
Panalytical
Analyse with x-ray fluorescence
Modular SFC
Spin drying
Metrohm
Metrohm has launched the 889 IC Sample Center autosampler
Implen
NanoPhotometer Pearl UV-Visl spectrophotometer
Horiba
Measuring CDOM
External links will open in a new browser window