Profile: From inert to reactive
A postdoc post took Jon-Paul Griffiths to commercial success as co-founder of Oxford Advanced Surfaces. Five years on, he still fizzes with enthusiasm, as Emma Davies finds out.
Jon-Paul Griffiths is more than justified in calling himself an entrepreneurial chemist. In 2006, at the age of 28, he co-founded Oxford Advanced Surfaces (OAS), a spin-out from Oxford University, UK. Since then, the company has gone from strength to strength and is listed on the Alternative Investment Market. In 2010, Griffiths was named Young industrialist of the year by the RSC.
Chemistry that works
Griffiths was certainly in the right place at the right time, but his enthusiasm and love of materials chemistry really propelled him to commercial success. After an MChem and PhD on electrically conducting organic materials at Nottingham Trent University, Griffiths happened to spot a magazine advert for a postdoc position with Mark Moloney at the University of Oxford. He knew of Moloney's work and thought that a year's postdoc would be good for his CV. But soon after starting work on the project to modify inert surfaces he was hooked. 'I quickly realised that I was working with chemistry that really worked and did something really interesting,' he recalls.
Griffiths was thrilled by the project's potential for industrial application. 'This was fundamental research that actually delivered. Its benefits were tangible, which was really exciting.' Across all industries there is a push to use engineered materials. The problem is that their inert nature can make it difficult to assemble devices requiring layers of materials, such as transistors.
Moloney's group modified surfaces using reactive carbenes - designing molecules with a carbene head and a functional tail. Once activated, the carbene can react with almost anything, allowing functionality from the tail group to be imparted to the surface.
Surface success
Moloney had filed a patent for his surface modification chemistry long before Griffiths' arrival and aspired to set up a spin-out company. He had struggled to get funding for the project until he hit on the idea of using the technology for disinfectant surfaces. That's when Griffiths arrived on the scene. 'Mark had done a huge amount of work on the background but there weren't many applications of the technology. What I did was to take the base concept and turn it into a platform technology. I looked at creating things for disinfecting surfaces, adhesion promotion and biocompatibles.'
Griffiths also got down to the serious business of commercial development, chatting to many people in industry. Whereas funding bodies were happy to award grants for biocompatible and biocidal materials, the industrialists had a different perspective. 'They were very interested in things like wetting and adhesion promotion,' says Griffiths. Through the University of Oxford's technology transfer subsidiary Isis Innovation, Moloney and Griffiths went into the City to raise early stage finance from venture capital (VC) firms.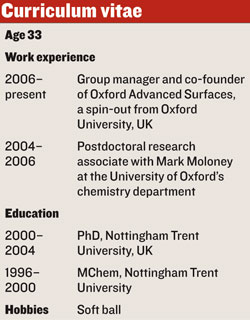 Griffiths loved doing the VC presentations. 'Isis do a fantastic job of warming everyone up beforehand but it's still very nerve-racking,' he says. 'There was so much interest in us and we had a lot of momentum.' OAS had enough funding to get off the ground in 2006.
OAS's carbene surface treatment is branded as Onto and forms the platform technology for the Reactive Chemistry Group, which Griffiths now manages. He also works on the long-term pipeline and supports the commercial team with sales in Europe, the US and Asia. His work involves a great deal of travelling, although since he and his wife had a baby two years ago he has cut back slightly.
He enjoys every aspect of his job. 'Working in a small company you have the ethos that everyone has to do whatever is needed to get the job done,' he says. 'I'm very much a small company type of person. I love the entrepreneurial vibe and buzz and hunger that you get in a company like this.'
He is keen to encourage other young people to embrace their entrepreneurial spirit. 'Have a go and try to be entrepreneurial,' he says . 'There are small companies out there that are desperate for that kind of person. When we hire someone, it's not just about how good a chemist they are but whether they think on their own feet - how entrepreneurial they are.'
Emma Davies is a science writer based in Bishop's Stortford, UK
Related Links
Oxford Advanced Surfaces
Science applied Onto just about anything
External links will open in a new browser window