News in Brief
Aspirin still has some secrets to give up
US scientists have identified a previously unappreciated stereoelectronic effect in aspirin. This electron delocalisation sheds light on some of aspirin's properties and could not only help in drug design but also be used to understand protein structure, say the researchers in Journal of Organic Chemistry (DOI: 10.1021/jo201389d).
The n-

* interaction has interested Ronald Raines of the University of Wisconsin-Madison for several years because it may be important in proteins' structure. Raines's team went looking for this interaction in a small molecule so that they could characterise it in detail, and found it in aspirin.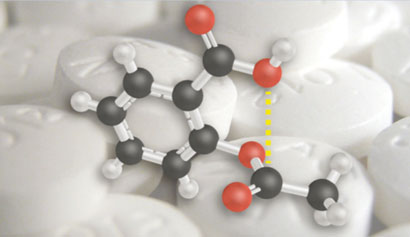 The overlooked stereoelectronic effect in aspirin makes the molecule less polar, which may improve the drug's bioavailability
© J. Org. Chem.
The interaction may help explain why aspirin is such a good drug because the interaction buries the carboxylate (the n-donor), making the molecule less polar, which could make the molecule's passage to its target - through a hydrophobic channel - much easier. Raines is now using aspirin to try to properly understand this electron donation and so figure out why molecules take on the shape they do, as well as how they interact with one another.
Ammonium radical is atomic pretender
When chemists think of the neutral radical ammonium, few think of it as behaving like an alkali metal. However, in many ways, particularly its electronegativity, which can be transferred from compound to compound, it acts like a pseudo-atom akin to sodium, according to computations by a team from the UK and the US.
The team computed the electronegativity of ammonium in binary complexes, including ammonium compounds of astatine and several borohydrides - analogues of simple alkali metal salts - and confirmed that the electronegativity is similar to the alkali metals. Ammonium most resembles a sodium atom, having similar ionisation potential and electron affinity. In Chemistry - A European Journal (DOI: 10.1002/chem.201101949) the group points out that the value is relatively large with respect to the radius of ammonium.
Electronegativity is usually considered a portable property of the atom in question. The presence of a sodium atom, for instance, will have the same effect due to its electronegativity regardless of the chemical environment in which it finds itself.
Solving a tangled polymer problem
UK researchers have cracked a long standing problem in polymer processing by developing a mathematical model that can predict the flow properties of molten polymers that contain complex mixtures of branched molecules of different sizes and shapes.
In work published in Science (DOI: 10.1126/science.1207060) the research team focused on low density polyethylene (LDPE), which can be stretched and pulled to make a wide variety of products.
To predict polymer flow, two key pieces of information are needed. The first is the distribution of the various sizes, shapes and branch patterns of the molecules in the system. The second is how the molecules act when subjected to an external force, individually and when entangled with their neighbours.
The first can be worked out and now the team has shown that the viscoelastic properties of the melt of a given type of LDPE can be predicted with unprecedented accuracy.
Zeolites under the microscope
Dutch scientists have shown that confocal fluorescence microscopy can be used to probe the properties and performance of zeolites, arguably the most important industrial catalysts.
At the catalytic heart of the porous zeolite structure are Brønsted acid sites. The researchers highlighted these catalytically active sites using the reactive small molecule thiophene. Although non-fluorescent as a monomer, thiophene oligomerises in the presence of Brønsted acid catalysts, becoming fluorescent in the process. When viewed through a confocal microscope, the more brightly a spot in the zeolite fluoresces, the more catalytically active that point is in the structure. In addition, the team used a second probe, a non-reactive dye called Nile Blue A, to coat the zeolite surface and so highlight zeolite particles held within the catalyst matrix.
The work, which was published in Nature Chemistry (DOI: 10.1038/nchem.1148), could provide new insights into the way zeolites fail as they age.
Chromium slag contamination
Thousands of tonnes of toxic chromium could be poisoning residents of the southwestern Chinese province of Yunnan. But despite criticism, the contaminated soil remains untreated.
The pollution was first exposed after the arrest of two drivers hired by Luliang Peace Chemical company in Yunnan's Luliang County, a major producer of chromium salts. The drivers illegally dumped as much as 5000 tonnes of chromium slag in nearby villages.
There have also been reports that Xinglong, a village near Luliang Peace Chemical, has had much higher rates of cancer since the plant began operating. However, local government denies that the river is polluted or that there are significantly more incidences of cancer in Xinglong than in other villages.
Chromium salts are widely used in metallurgy, tanning and paint and dye making, but their manufacture results in large amounts of slag which can form carcinogenic hexavalent chromium.
Drama for medicine Nobel prize
This year's Nobel prize in medicine or physiology went to Ralph Steinman of Rockefeller University, US, for his discovery that dendritic cells activate the immune system, and Bruce Butler from Scripps Institute, US, and Jules Hoffman from Strasbourg University, France, for their work on how the immune system is boosted when exposed to pathogens. However, there was a sting in the tail, Steinman had died before the announcement.
The rules say that the Nobel prize cannot be awarded posthumously, but as the news of his death had not left the immediate family when the announcement was made, the award still stands.
The Nobel prize in physics was awarded to Saul Perlmutter, University of California, US, Brian Schmidt, Australian National University, and Adam Riess, Johns Hopkins University and Space Telescope Science Institute, US, for their discovery that the expansion of the universe is continuing to accelerate. For news on the Nobel prize in chemistry turn to p38.
Detecting explosives with lasers
Terrorism has created a need for new explosive detection devices that can operate in vulnerable buildings, but so far devices sensitive enough to catch traces left on a bomb maker's body and belongings need to come into direct contact with the explosive.
In Optics Express (DOI: 10.1364/OE.19.018671), US researchers report the development of a laser-based explosives detector that can spot 2,4,6-trinitrotoluene (TNT) at concentrations of 1ng/cm2, from 15cm away.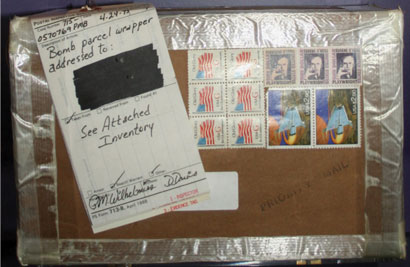 Minute explosive traces could be spotted in seconds at a distance
The detector uses photodissociation laser induced fluorescence to break the explosive molecule into fragments - nitric oxide (NO) - and probes the NO with the same UV laser pulse. The NO from the explosive is differentiated from ordinary smog (also NO) because it has extra vibrational energy in its bond. The vibrating NO will absorb
a photon from the laser pulse boosting an electron into an excited state. When it drops back to its ground state, the molecule emits the vibrational energy as light, which the detector can pick up on.
Oxygen isotopes to probe water
Scientists have used isotopic substitution of oxygen to take a closer look at the molecular structure of water using neutron diffraction. The technique could also be used to explore the structure of disordered oxides.
Neutron diffraction allows chemists to study the position of atoms in a material. By substituting an element in a sample with an isotope, scientists are able to get an even better fix on an atom's position and determine where it sits in relation to surrounding atoms. However, to date, chemists have largely ignored oxygen substitution.
In Physical Review Letters (DOI: 10.1103/PhysRevLett.107.145501) the team carried out neutron diffraction experiments on water using isotopic oxygen substitution. They found a small 0.5 per cent difference between the hydrogen-oxygen bond lengths of D2O compared to H2O. These results support the flexible anharmonic model of water - that the molecules can increase their dipole moments, which counteracts the structure breaking quantum effects.
Budget ringfence questioned
A report from the Campaign for Science and Engineering (Case) claims that the UK science budget has been cut substantially, despite the government's pledge to protect it. The analysis predicts that by 2014-15 the total research base will have suffered a cumulative shortfall of £1.7 billion in cash terms, with inflation further reducing the pot.
Case's biggest criticisms is that the very definition of 'science budget' has been changed. For example, capital funding for equipment and facilities no longer counts towards the science budget and so can be cut. Imran Khan, director of Case, says capital funding is for more than just big projects, it's for day to day repairs too.
Also of interest

14 September 2011
Researchers discover an overlooked chemical interaction in aspirin that could help understand protein structure
30 September 2011
A new model can predict flow behaviour of branched polymer melts like LDPE

18 September 2011
A fluorescence imaging technique borrowed from the life sciences illuminates catalyst particle performance

21 September 2011
US researchers have developed a laser technique that can spot nanogram quantities of TNT centimetres away

06 October 2011
Quantum effects in water are revealed by substituting its oxygen with isotopes

16 September 2011
Changes to what is defined as science could see the UK science budget fall by as much as £1.7 billion