Market Place
Featured Product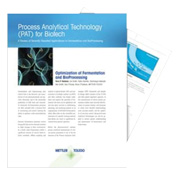 Fermentation and bioprocessing
Within the pharmaceutical industry, process analytical measurement of critical process parameters is one of the key elements of the Process Analytical Technologies (PAT) framework and Quality by Design (QbD) initiative of the US FDA and other global regulatory agencies. In situ measurement of critical process parameters enables more accurate determination of process kinetics and dynamics to create more detailed understanding, more accurate models, and the capability of real-time control. Mettler Toledo has developed a white paper that reviews the optimisation of fermentation and bioprocessing: To download this free white paper please see website or contact us on tel: 01162357070, email: enquire.mtuk@mt.com
Guided operation
Eppendorf has launched the new BioSpectrometer, designed for a wide range of routine and complex applications in genomics, proteomics, cell biology and biochemistry. Two versions are available: 'basic' and 'kinetic', featuring a temperature controlled cuvette holder. Full spectra can be captured, and individual wavelength measured, within a spectral range of 200-830nm. The operator does not need a PC to use the system and basic data processing can be performed on the device, with capacity for up to 1000 results. A USB port is provided for simple data transfer. The kinetic model features a temperature controlled cuvette shaft for studying enzymes or substrate kinetics that can varying from 20°C to 42°C in 0.1°C increments.
Extreme plasma loads possible
Spectro Analytical Instruments has introduced the SpectroBlue, a compact mid-range spectrometer for inductively coupled plasma optical emission spectrometry. The company says it boasts simple operation, low maintenance and affordability. The device has a generator designed to handle extreme plasma loads. The heat from the high power ceramic tube is eliminated using an 'air-cooled' technology, meaning an external water-based cooling system is not needed. Meanwhile, the sealed optic system eliminates gas purging. In addition, Paschen-Runge optic technology permits a direct path for maximum light throughput, allowing the system to more simply process line-rich spectra, improve measurement accuracy and reduce rework.
Breathe easy
3M has brought to market the Aura 9300+ range of disposable respirators, aimed at industries in which workers need protection from particulate hazards. The new range builds on the 9300 range and includes the 'cool flow' valve and the three panel flat fold design for easy storage. The company says that the new range has a 'technically advanced' filter material that 'combines effective performance with low breathing resistance'. It also includes a sculpted nose panel that results in a wider field of vision and improved compatibility with eyewear.
Photomultipliers
SensL has launched a new range of SL silicon photomultipliers (SPMs). The company says that the new devices feature the highest signal-to-noise ratio of any SPM - four times the ratio of previous generation SensL products. In addition, they benefit from output uniformity of ±10 per cent, compared with ±33 per cent for photomultiplier tubes. The SL devices need only 30V of electricity for operation, less than half of any other SPM on the market today, according to SensL. The new range comprises: MicroSL 1mm and 3mm detectors and ArraySL 13.4mm square and 46mm square detectors. The MicroSL detectors are suited to coupling to scintillator crystals to detect photons generated by radiation used in medical imaging, hazard detection and high energy physics. In addition, they will be used in Lidar (light detection and ranging) and 'biophotonics' instruments, such as flow cytometers. Some parts include an integrated Peltier cooler capable of reducing the temperature to -20ºC for lower noise levels.
Spectrometry with FTIR
Agilent has launched the Cary 630 Fourier transform infrared (FTIR) spectrometer, which it says it is the smallest and lightest FTIR spectrometer on the market. How small is 'smallest'? The dimensions are 16cm by 22cm by 13cm. According to Agilent, sampling accessories slide in and out quickly, with no alignment required, and liquid sampling technology, DialPath and TumblIR, remove the need for a liquid transmission cell. The device is suited to quality assurance and control in the chemical and pharmaceutical industries, as well as academic research and teaching labs.
Mass detection
Waters has introduced the SQ Detector 2, a new single quadrupole mass detector. The company says that unit requires minimal training for new operators and results in simpler workflows. It features MassLynx for reporting results and is designed to partner with a wide range of chromatography approaches. The SQ Detector 2 is fully compatible with the Waters atmospheric solids analysis probe, which allows rapid direct analysis of a wide range of solid and liquid samples with no chromatography and minimal sample preparation.
Particle sizing
Malvern has developed a new Mastersizer 3000 for measuring particle size using laser diffraction. The device can measure wet and dry particles of between 0.01 and 3500 m m and boasts sample dispersion accessories that include a distinctive dry powder dispersion unit. The company says that it has been designed with flexibility in mind.
Centrifuging
Beckman Coulter has brought to market a 3 litre benchtop centrifuge: the Allegra X-14. The device accepts a variety of tubes and adapters for a range of applications and is available with refrigeration capability. A fixed angle rotor provides a maximum speed of 10,200rpm and delivers relative centrifugal force (RCF) of 11 400g. Meanwhile, 'swinging bucket' rotors can achieve a maximum speed of 4,300 rpm and deliver RCF of 4,300g. Under the right conditions, the Allegra X-14 can process up to 148 tubes per cycle. The refrigerated model offers a temperature range of 2-40°C, and features a cooling system that takes samples from room temperature to 4°C in under four minutes. The constant temperature model is set to 20°C.
Related Links
Mettler Toledo
White Paper: Process Analytical Technology (PAT) for Biotech
Eppendorf
The BioSpectrometer, for measurements in the UV and VIS range
Spectro
The SpectroBlue, a compact mid-range spectrometer
3M
Aura 9300+ disposable respirators
SensL
SL silicon photomultipliers
Agilent Technologies
Cary 630 Fourier transform infrared spectrometer
Waters
The SQ Detector 2, a new single quadrupole mass detector
Malvern
Malvern has developed a new Mastersizer 3000 particle size analyser
Beckman Coulter
A three litre benchtop centrifuge
External links will open in a new browser window